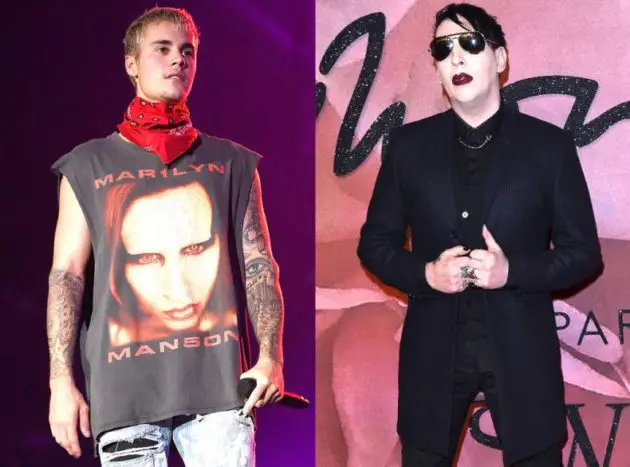 MARILYN MANSON and JUSTIN BIEBER have apparently squashed that whole t-shirt beef. A string of messages the guys have exchanged has surfaced via Billboard, you can read it below.
Bieber: "Bro, it's Bieber what's up with that article? I thought we had a pretty pleasant interaction. Also, if anything wasn't squared away with the T-shirts I'm so sorry. Anyway, regardless, it kind of stung seeing that if I came off as an asshole or was just an asshole, I'm sorry?"
Manson: "That [quote] was exaggerated. You were just you being you. No beef here."
Bieber: "Honestly, I totally thought we hit it off. Again, my bad, if I was an asshole that wasn't my intention. Just want you to know that."
Manson: "We are cool. People just made that shirt stuff into a fake feud. Let's turn it upside-down and fuck the press and do something together. It will be the best.
"And don't apologize, you weren't an asshole. They asked if you were and I sort of agreed. I wasn't out to get you."
During a recent CoS interview, Marilyn Manson said that Justin Bieber said he made him relevant again by using his t-shirt. Read more about it here.
The source reports:
"Last summer, a repurposed Manson t-shirt featuring the phrase 'Bigger Than Satan… Bieber' was sold for $195 at luxury retailer Barneys.
"At the time, the t-shirt's designer, Fear of God, was adamant that Manson had given him and Bieber permission to 'reinterpret' the original image. However, in a forthcoming interview with Consequence of Sound, Manson offers a different account.
"Manson says that when he first met Bieber 'he was [already] wearing the shirt that had his name on my shirt, and he said to me, 'I made you relevant again." 'Bad mistake to say to me,' Manson adds.