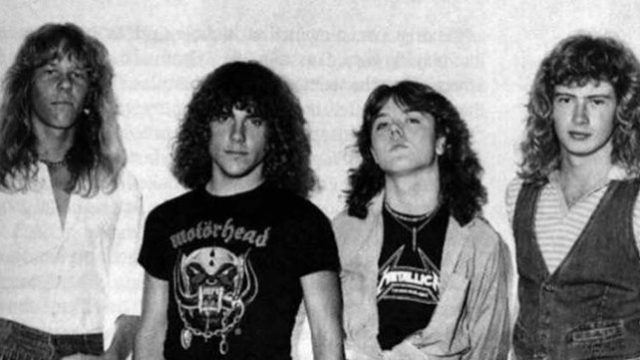 Original METALLICA bassist Ron McGovney recently took to Twitter to say who sang in the band's early days while MEGADETH mainman Dave Mustaine was still in the group and also confirming that band once tried to perform as a 5-piece.
I've been getting a lot of questions about who sang vocals when we played live when I was in METALLICA, Ron wrote. "James Hetfield. That's it. Dave Mustaine did talk in between songs because his guitar wouldn't stay in tune. Dave sang backup vocals on "Killing Time." That's it.
Ron was also asked about guitarist Damian C. Phillips, who reportedly performed a single show with METALLICA on April 23, 1982, at Music Factory in Costa Mesa.
METALLICA wrote on their official site about the show: "METALLICA attempts to perform a show as a five-piece band including Brad Parker (also known as Damion C. Phillips) on second guitar. His performance did not go over well."
McGovney just briefly noted: "Yes. It is true."
Having previously played with guitarist James Hetfield in the garage band LEATHER CHARM, McGovney was a member of METALLICA during its first year of gigging and appeared on their early demos before departing late in 1982. After a period of inactivity, he played in the thrash metal band PHANTASM.
During a new Classic Rock interview celebrating the 40th anniversary of DIAMOND HEAD's Lightning To The Nations album, Lars Ulrich was asked about the progress of the songwriting sessions for METALLICA's follow-up to 2016's Hardwired… To Self-Destruct record.
"[It's been] glacial," Lars responded. "These are the craziest of times and nothing is letting up. There's a little bit of movement [in that direction], but it's hard to do a lot when we're not together."