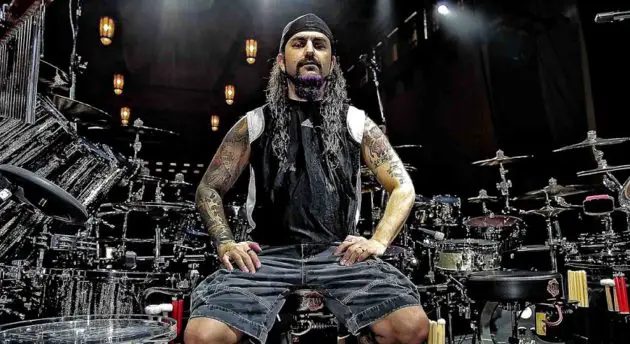 Following 17+ years of sobriety, Mike Portnoy remembered the days of his struggle with alcoholism, telling The Fix:
"I was probably as much of a 'responsible' alcoholic as you'll find. It was always, at least in the early days, something that I kept concealed, and I tried to delegate it to an end of the night kind of thing.

"I was never a day drinker or drugger because I could never function responsibly that way.

"At the end of the show, that's when I would crack open my first drink, and I would go until I'd pass out at four in the morning each night, usually in the privacy of my home or my tour bus.

"Then it went from not drinking until after the show to not drinking until the encore, to not drinking until the keyboard solo, to not drinking until the opening band went on… it kept getting earlier and earlier."
Remembering a DREAM THEATER show in Texas where he was completely drunk onstage, Mike noted:
"I went on a rant on the microphone, and I remember I even stumbled on a drum part on our song 'Pull Me Under,' which I'd played a thousand times. That was a song I could do in my sleep.

"My wife carried me out to the bus after the show, and it was one of those moments of clarity where I realized it started to seep into my personal and professional life.

"I never used to play f*cked up. Towards the end I did, and that's when I knew I'd crossed the line."
Focusing on how he used his demons as inspiration for the band's "Twelve-Step Suite" – a set of five DT songs related to alcoholism, each released on one of the band's albums from 2002's "Six Degrees of Inner Turbulence" to 2009's "Black Clouds & Silver Linings" – Mike added:
"I've always written lyrics out of events and situations in my life, and being that sobriety and the steps were such a huge part of what I was going through I was inevitably going to write about it. It was very therapeutic to write about the steps in such a public forum. It was kind of how I did my step work.

"Of course I properly did my steps with my sponsor, but this was another way of therapeutically digging in, looking at myself, and looking at each step. I was going to meetings every day, but writing about it really cemented it into my being.

"So I decided that would be a good one to write lyrics to, and I wrote about the first three steps for the separate movements of the song.

"The lyrics of 'The Glass Prison' are about coming out of the dark and surrendering. The opening line to 'The Glass Prison' is, 'Cunning, baffling, powerful.' It starts with something that anyone in the program will immediately identity with and relate to.
He concluded:
"The first thing that comes to mind [after celebrating 50th birthday] is thank God I was able to turn my life around and be here for my kids and family, as well as my friends and fans.

"I look at John Bonham and Keith Moon, two of my heroes who died at such a tragically young age because of this disease, and I'm grateful I was able to make it out of the glass prison and be here today."
Check out the interview Of Mike and his son Max Portnoy about his drumming here.