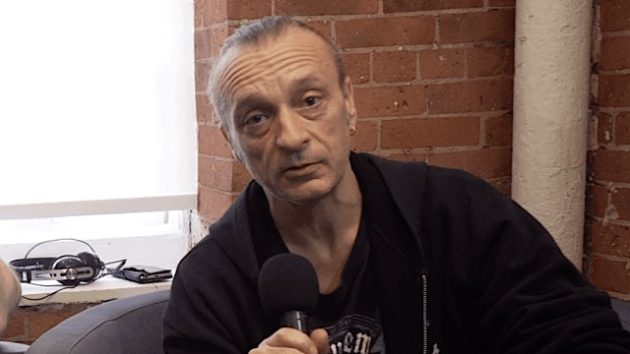 In an interview with Finland's Kaaos TV, MAYHEM bassist Necrobutcher talked about the band's live shows, their fans, and discussed "Lords of Chaos" movie.
When asked if MAYHEM's die-hard fans that want to hear specific songs every night is hard to please, he responded: "Yeah, I read an interview with Keith Richards the other day and he said he's so sick and tired of playing 'Satisfaction' and 'Let's Spend the Night Together,' but he loves his fans so much, he looks at his fans and when he's playing these songs people start to cry and stuff.
"And I actually experienced that myself," Necrobutcher continued. "Sometimes, I look into the audience and see all the guys with beards and stuff trying to clean his glasses, but he's not cleaning his glasses, he's f*cking crying.
He added: "Then again, I must admit that I'm one of those guys that can go to the concert and if this special track comes that has been used in a funeral or that I have some extra emotions to, that I have to go back in the hole and hide a little tear myself."
When asked if "Lords of Chaos" affected band's ticket sales in any way, he relied: "First of all, we were kind of hesitant about the whole thing. We just got this producer calling, 'Hey, I'm making a movie out of your band. What do you think about it?'. I said, 'Huh? F*ck off!'.
"At first, he didn't even bother to ask us anything and they're gonna base the film on a book, which is just complete nonsense. Not that I was being slandered or something, but I worried that somebody would falsify the story and make money on it as well. And then I saw that they even had printed pictures of my dead friend in the book, I tried to sue the whole f*cking book too. So with that in mind, I just told everybody, 'F*ck off.' Then this project came along and then there were some forces trying to get me and Åkerlund to meet.
"I was in LA two times without meeting him," bassist continued. "He was there, but I was doing accounting for the tour and stuff, so I didn't have time. But then I was on another tour, and it turned out the guy is a good guy.
"We started to talk about several things and I said to him, 'Okay, you want something to make this film more authentic and you need some photos, maybe some music and sh*t like that, but I must see the pre-movie first before I can okay anything. I met you a couple of times, but I don't trust people. I'm a paranoid guy.'
"When I saw the trailer or the pre-movie, I was thinking to myself, and what I had in mind that the producer had said, 'This movie is coming out anyway.' And the parts where they needed a little bit of music, they would just come up with something similar and so it wouldn't change anything except a little bit of quality in the movie.
"And then I was thinking to myself, 'These people are good people. They come up to me now, they send me the pre-thing and if we just give them a little bit, then we would make the movie a little bit more quality-worthy, then why not?'
"Again, we would check inside for the help, so then the movie came out. First of all, all the journalists in the world: LA News, CNN, BBC, ABC, NRK, SVT, everybody, RT, everybody wanted me to have a comment," he added. "And I called them all, I gladly commented on this movie after it came out because I want people to make up their own mind about this movie.