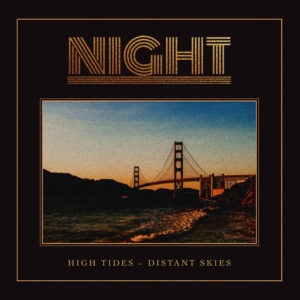 There are bands that choose a path that is not usual. I say that because I have always in mind the genres we most receive here. Night with "High Tides-Distant Skies" opted for the good old Hard'n'Heavy with clear nuances of the early 1980s being very near to Def Lepard's debut "On Through the Night" and I'd be attempted to say bands as Survivor or Journey. However the twin guitars and the exciting and heavy moods bring them to the early bands of the NWOBHM that had a foot near the more commercial lines. In this particular case, more commercial means more melodic songs with catchy choruses and exciting riffing. The kind of song that was made to play on radios, but with something that many bands don't have: honesty. I say that because it's possible to feel the integrity of band and the pleasure they have in playing songs as "Shadow Gold" and "Burning Sky," just to quote a few.
Adding to all that, I guess that "High Tides-Distant Skies" also offers other influences that most fan won't remind because they are pretty far as in tracks as "Crimson Past" that recalls a lot bands as Dire Straits, and mostly, Blue Öyster Cult – I guess Blue Öyster Cult pretty much sums it up – with its chordly clean riffing, a very rare thing to see these days. For the record, the best track in the album. And when the fan gets used to their style, it comes the AC/DCish riffing "Falling in the Black" to burn everything down. Though, the surprises don't stop there, on the third minute the song gets acoustic giving an introspective mood for it that recalls the great UFO.
I would spend the night away just quoting the marvelous influences Night show here in "High Tides-Distant Skies." Needless to say that they are intense and numerous, but the band was coherent until the end and gave us an album to be proud of. Needless to say as well that I just loved them. It's no secret here that I appreciate this kind of music.
Night "High Tides-Distant Skies" will be released on September 11th via The Sign Records.
Track Listing:
Shadow Gold
Burning Sky
Crimson Past
Falling in the Black
Running Away
Here on My Own
Lost in a Dream
Give Me to the Night
Under the Moonlight Sky
Watch "Under the Moonlight Sky" official video here:
960