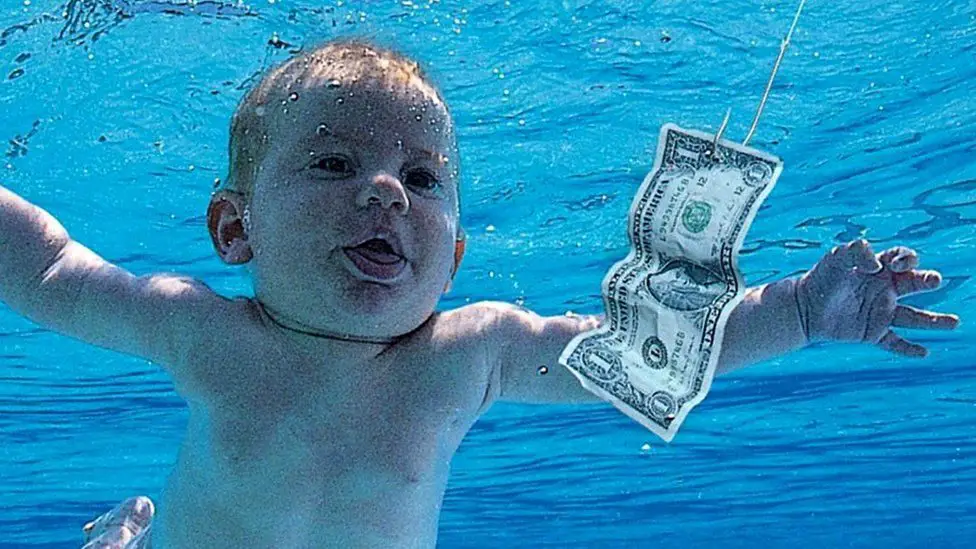 The man who claims he was the baby featured on the cover of NIRVANA's "Nevermind" album has refiled his lawsuit against the band, a little over a week after a judge dismissed his initial complaint, Rolling Stone reports.
30-year-old Spencer Elden filed a complaint at Los Angeles federal court last August claiming that the 1991 image in a swimming pool chasing a dollar bill is child sexual exploitation and violates federal child p*rnography statutes.
Elden sought damages of either $150,000 from each of the 17 defendants or unspecified damages to be determined at trial, attorney fees, an injunction to prohibit all parties "from continuing to engage in the unlawful acts and practices described herein," and a trial by jury.
Elden claimed that his parents never signed a release authorizing the use of the photos, which were taken in a Pasadena aquatic center in 1990. He alleges that the band promised to cover his genitals with a sticker, which was never incorporated into the album art.
"To ensure the album cover would trigger a visceral sexual response from the viewer, photographer Kirk Kirk Weddle activated Spencer's 'gag reflex' before throwing him underwater in poses highlighting and emphasizing Spencer's exposed genitals," the complaint states.
The suit further alleges the defendants "used child p*rnography depicting Spencer as an essential element of a record promotion scheme commonly utilized in the music industry to get attention, wherein album covers posed children in a sexually provocative manner to gain notoriety, drive sales, and garner media attention, and critical reviews."
On January 3, Judge Fernando M. Olguin, who was presiding over the case at the U.S. District Court in Central California, dismissed the case after Elden missed his December 30 deadline to file an opposition to the defendants' motion to dismiss. However, Elden had the option to refile an amended lawsuit by January 13, which he has now done.
In the amended lawsuit, filed on Wednesday (January 12), Elden claims that NIRVANA "intentionally commercially marketed the child pornography depicting Spencer and leveraged the lascivious nature of his image to promote the 'Nevermind' album, the band, and NIRVANA's music, while earning, at a minimum, tens of millions of dollars in the aggregate." However, the second amended complaint drops a claim related to sex trafficking. Elden's prior suit alleged that the defendants did "knowingly benefit from participation in what they know or should know is a sex trafficking venture."