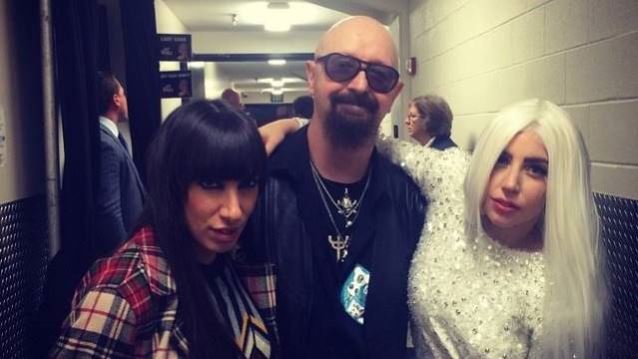 In a new interview with People magazine, JUDAS PRIEST singer Rob Halford revealed which song he would like to perform with pop-star Lady Gaga.
"I would definitely do 'Born This Way' because that's our anthem," he told said, referring to the LGBTQ community. "As far as PRIEST songs go, I think I'd like to do 'Breaking The Law' with her because it talks about the frustration that we go through, particularly as young people. 'You don't know what it's like, you haven't got a clue. You'd do the same thing too. Breaking the law.'"
Halford added: "I became a big fan of everything that she's done and that's because I love all kinds of music. She's the best at what she does."
In a 2015 interview with Yahoo! Music, Halford  that during one of the London gigs on JUDAS PRIEST's Epitaph tour, Gaga was planning to appear as a special guest.
Rob said: "Gaga called and said, 'Can I get on the back of Rob's bike when he comes out and we'll do 'Hell Bent For Leather'? I was like, 'Oh my God! Diva moment. Please let this happen!' But she couldn't do it. She ended up doing a shoot in Omaha, Nebraska, that took a week. If that isn't a nice affirmation that someone with extraordinary talent that isn't metal can still gravitate to the metal experience, I don't know what is."