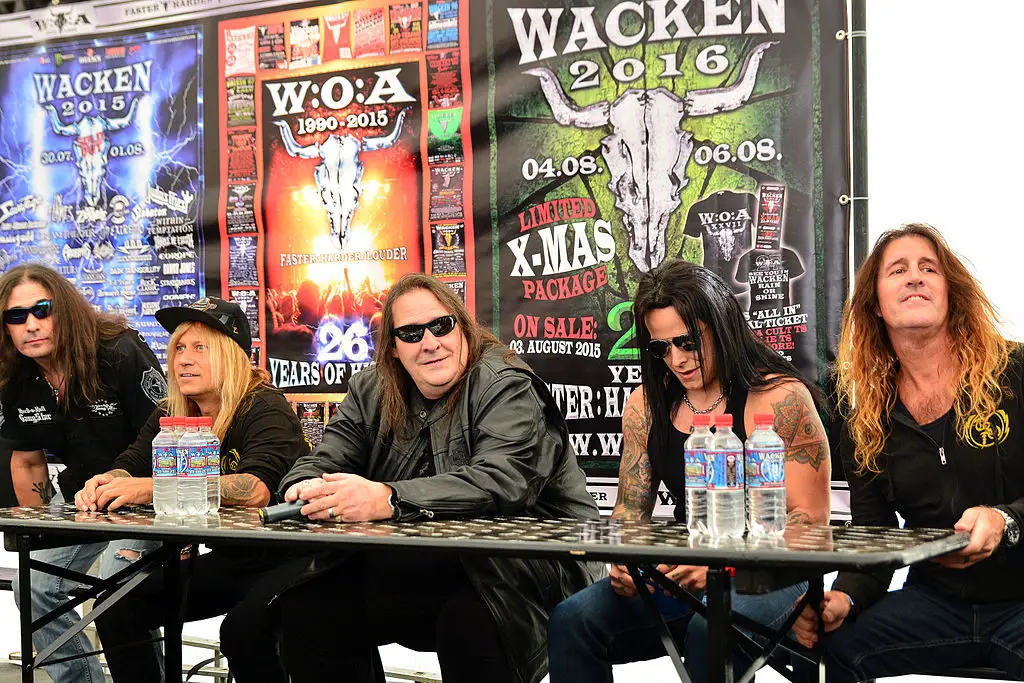 After more than 15 years out of the spotlight, save for a one-off "special" performance at the Wacken Open Air festival back in 2015, legendary American heavy metal band SAVATAGE seem to be active again as they are working on new material for what might be the band's first studio album since 2001's Poets and Madmen.
This news was broken last week on by Sandi McGinnis Duran, who claims to be a friend of SAVATAGE vocalist Jon Oliva, and relayed the following message written by the singer himself on at least two SAVATAGE Facebook groups: "This is Jon Oliva speaking to all the people in the SAVATAGE groups first of all I would like to really thank you all for being fans of the band and hanging in there believe me I've been hanging in there too there are many surprises coming up we ain't done yet I wish I could disclose some of them to you but I'll probably get sued or some stupid s*** like that we're working on new material we're getting things together just be a little patient which I know you guys have been for a hundred years I love you all thank you so much for your support it ain't over until it's over Yogi Berra said that great baseball player I'm getting off of this subject we're also working on a new TRANS-SIBERIAN ORCHESTRA record and that's going really well we are working on new SAVA material all is good I love all you guys thank you so much God bless you all."
While the official reunion lineup has yet to be finalized, the common assumption is it will be the same as the one from the Wacken performance: Jon Oliva (vocals), Chris Caffery (guitar), Al Pitrelli (guitar), Johnny Lee Middleton (bass) and Jeff Plate (drums). It is not clear for the time being if Zak Stevens (who was Jon's replacement from 1992 to 2000 and was also present for the 2015 "reunion") will also be involved.
Last November, when asked about a possible reunion, Pitrelli claimed that he and Oliva were working on what could be new music under the SAVATAGE name: "Jon Oliva is a fantastic musician and is always working on new music, constantly sending me new songs and new ideas. When we work for TSO we sit down together at the piano and listen to his ideas for new SAVATAGE songs. We always talk about doing something, I would like more than ever to get the band back together and back on tour. I know the fanbase in Europe would be delighted, and it would be nice to be able to do that. Yes, we talk about it a lot and I think one day we will because, as I told you, the world changes in a moment and I don't want to one day have the regret of saying, 'We should have done it when we could!' Let's try to live to the fullest and not wait to do something, let's do it! I can't wait for that day… I don't have a date, an hour, or an exact plan, I just know that we all want it very much."
More fuel to the speculation of a SAVATAGE reunion was added last December, when Caffery told Brave Words: "I mean we've been speaking about it for the last 20 years now, since the last record. It's always able to happen and something else stops it – you've got HALEY'S COMET coming around once in a while, and every hundred years you have a pandemic, and once every 20 years there's a SAVATAGE record. It will be 20 years in 2022 so maybe that's when it will show up. I'm kind of hopeful that it does, I know I've done a lot of writing, and Jon has, and Al always has a lot of music, so we could make a record. Things would never be exactly the same without Paul [O'Neill] but they were never exactly the same without Criss Oliva either, but we still managed to do Dead Winter Dead and Wake of Magellan and Poets and Madmen."
In the same interview, Caffrey offered an update on the state of Jon's health: "He's doing much better, because a couple of years ago he had a bit of an incident. So he hit a bump in the road with something inside of him. I see the masked mountain king every day and probably the last four five years he's looked the best he has to me."
Formed in 1979 under the name AVATAR by vocalist Jon Oliva and his brother Criss, who served as the band's rhythm/lead guitarist, SAVATAGE were part of the American heavy metal movement of the early-to-mid 1980s, and has been cited as a key influence on many genres such as power metal, progressive metal, speed metal, thrash metal, death metal and symphonic metal.
SAVATAGE released eleven studio albums in their career, including Hall of the Mountain King (1987), Gutter Ballet (1989), Streets: A Rock Opera (1991) and Edge of Thorns (1993). After Criss was killed in a car accident on October 17th, 1993, Jon kept the band going in memory of his brother, releasing four more albums prior to going on hiatus, the last being 2001's Poets and Madmen.