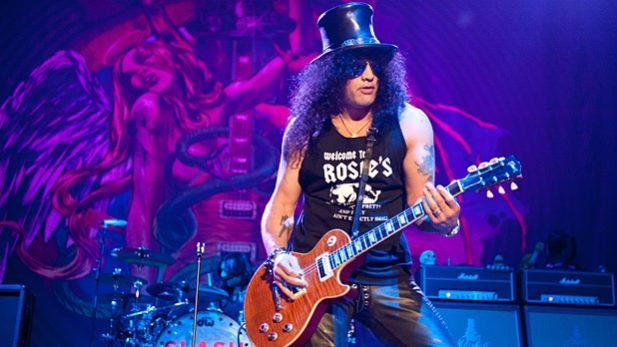 In a new interview with Consequence of Sound, Slash named what he considers the greatest rock 'n' roll band of all time.
He said:
"AC/DC is – bar none – with the exception of Stones, the greatest rock 'n' roll band ever. The Stones will always come first for me and then AC/DC.

"There are no other bands that actually play that brand of really '50s-influenced straight-up rock 'n' roll like AC/DC. I love them for that. I think Phil Rudd is one of the best drummers of all time. So anytime he was not in the band, I was always disappointed."
Asked if the new GUNS N' ROSES album will be out before the new CONSPIRATORS release, Slash replied:
"I would hope so! I mean, that's one of those things where it remains to be seen, but I would hope so. But we'll see what happens."
He also talked about the "mega-success" of GN'R's reunion tour:
"I actually didn't have any expectations. My biggest concern was the band itself. Obviously, having patched things up with Axl was a huge thing. I mean that was like a way bigger priority than how successful the tour was going to be.

"And then we got into it initially with like four or five shows in mind, and see if we could survive that. So then it started to snowball – no one knew what the anticipation level of those first five shows was gonna be until we did them. And it just went from there.

"So, I didn't have a lot of lofty ideas of how successful it was going to be, and it didn't really matter. Really, what it came down to, it was more fun just to be with the guys and just to do it, and the fans were unreal.

"That was really what it was all about for me. Now, at this time, in hindsight, to say that it was one of the most successful tours [of all time] – that's obviously very humbling, and you feel very grateful to have been appreciated to that extent.