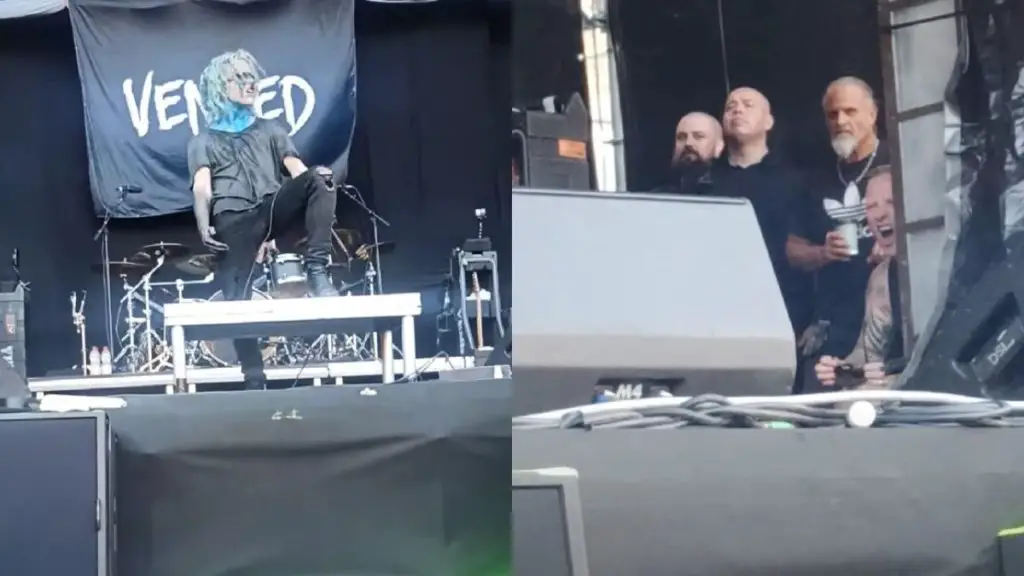 SLIPKNOT singer Corey Taylor and percussionist Shawn "Clown" Crahan have been spotted watching their sons' band VENDED perform at a recent stop on SLIPKNOT's European headlining tour can be seen below.
VENDED Griffin Taylor (vocals; son of Corey Taylor), Simon Crahan (son of Shawn "Clown" Crahan) and Jeremiah Pugh (bass),Cole Espeland (lead guitar) and Connor Grodzicki (rhythm guitar).
VENDED's fresh and unique sound heralds in a new era and the arrival of the next generation of brutality to hail from Des Moines, Iowa. Formed in February of 2018, VENDED exhibits a furiously heavy sound built upon the foundations laid by the speed, power and precision of the rhythm section, layered with ferocious guitars, soul crushing solos and gutteral-yet-melodic vocals that portray the hardships and the harsh realities of life.
SLIPKNOT will release their new album, The End, So Far, on September 30 via Roadrunner Records. The album is available to pre-order from Amazon at this location.