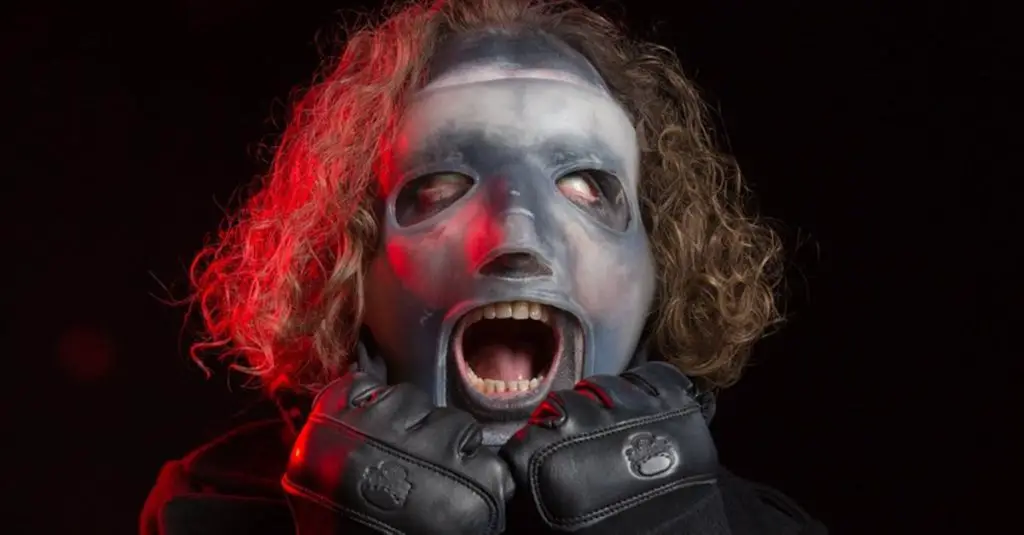 During a recent appearance on The Bertcast, SLIPKNOT singer Corey Taylor talked about the origin of band's mask.
"When I joined the band, the masks were already in place," Corey said. "The mask idea came from Clown wearing his mask at practice. And this is all legend because this was obviously before I was in the band. It all came from him showing up to practice one day, and just caveman the f*ck out like on his drums and s**t in his mask. And it just took him to this crazy place that he was feeling.
"So then, according to legend — according to lore anyway — Joey [Jordison, drums] got his white mask and started wearing that. And then, as time went on, everybody just started kind of getting their own thing. And it just happened organically, it wasn't something that was really thought out, it was just something that people felt. And the masks changed over the years so much. Certain people's masks changed dramatically even before we got signed. It was cool, it's almost like trying to find yourself in that kind of state.
"For me, the mask has always been a representation of the person inside me who needs this music," he added. "That's the face of the guy inside me who wants to sing th*s s**t, who wants to feel this sh*t, who's got something to say. So it's always been that physical representation."
Asked if any of band members, regret their masks, Corey said: "I'm sure we all do, every night. We always do it — we were sitting down, some of us are putting makeup on underneath it, we just look at each other and we just go, 'Let's wear masks! It's a great f*cking idea! What the hell?!'
"Every night you can set your watch to it, dude! We're all sitting there getting ready and there's that moment where you're just like… *sighs* when you put it on. Because it's two hours of just pain, it's crazy."
After interviewer noted that Shawn "Clown" Crahan's mask [SLIPKNOT percussionist] scares the "living sh*t" out of him, Taylor said: "Well, especially him, he's got some serious issues that really come out when we're on stage and there's no one to protect us — which is cool, I'm glad that happened. Oh, dude, you have no idea — we could tell it was going to be a special night because he'd be like rubbing his belly good, and they come out on stage, and he'd have s**t in both his hands.
"And he'd be throwing all over, and it's on my f*cking face… So now, not only do I have to sing this crazy s**t but I have Clown's poop running down my f*cking mask. And if I wipe it off — I'm a puss," he continued. "He and Sid [Wilson, turntablist] used to light my legs on fire every night. We'd be playing 'Scissors,' from the first album [1999's self-titled], and the whole second half of that song, we would make up. The first half, we would do our thing and it was exactly how we wrote it, but then the second half was all made up — full-on artistic playing with pedals, and I'm doing poetry, a crazy stream of consciousness s**t…
"So I'd be on the ground, and unbeknownst to me here come Sid and Clown from behind me with lighter fluid, and they're f*cking soaking my legs," Corey said. "So I'm in like this crazy trance, and I'm singing, and all of a sudden, 'F*ck, why are my legs hot?' I'm rolling around and… Oh, dude, yeah, it was insane."
SLIPKNOT's latest album, We Are Not Your Kind, was released on August 9, 2019 via Roadrunner Records. Album was once again recorded at a Los Angeles studio with producer Greg Fidelman, who engineered and mixed SLIPKNOT's 2004 album Vol. 3: (The Subliminal Verses) and helmed 2014's .5: The Gray Chapter.
We Are Not Your Kind sold 118,000 equivalent album units in the U.S. in its first week of release to land at position No. 1 on the Billboard 200 chart. Furthermore, the album made an impact worldwide with No. 1 debuts in the United Kingdom, Mexico, Australia, Canada, Japan, Ireland, Belgium, Portugal and Finland, as well as Top 5 debuts in Germany, France, Norway, Italy, Austria, Sweden, Switzerland, The Netherlands, Poland, Spain and New Zealand.