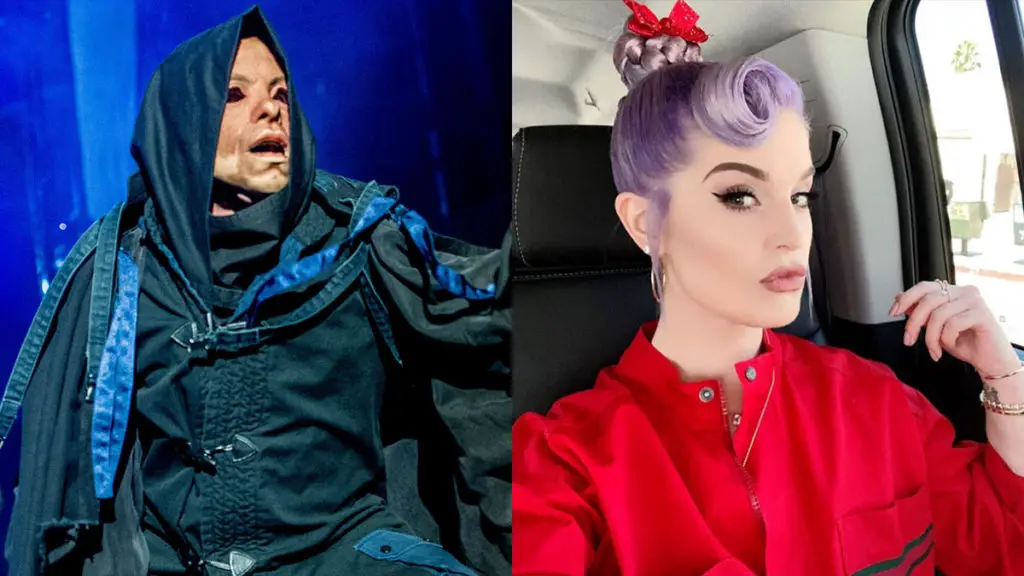 SLIPKNOT's Sid Wilson and Kelly Osbourne are apparently dating.
As Daily Mail reports, Osbourne uploaded two photos with Wilson this past Monday (January 17). The first was a selfie of the duo soft-smiling, and the second showed the SLIPKNOT DJ kissing her on the cheek. You can see images below.
Osbourne was previously in a relationship with a cinematographer named Erik Bragg, whom she separated from in October after being together for around a year.
SLIPKNOT regularly played at Ozzfest over the years, the annual heavy metal music festival founded by Kelly's parents Ozzy and Sharon Osbourne.
SLIPKNOT frontman Corey Taylor has recently confirmed that the band's new album will be released this year. The follow-up to 2019's We Are Not Your Kind was recorded in 2021 with producer Joe Barresi, who has previously worked with AVENGED SEVENFOLD, QUEENS OF THE STONE AGE and CHEVELLE, among many others.
Corey  tweeted over the weekend: "Big Sh*t Coming, 2022 edition: ZvN (Zombie Versus Ninja movie) updates, SK album, secret 'homecoming' plans, etc. Stay Tuned! 'Hold On To Your Butts'— Franklin D. Roosevelt."
In a recent interview with HardDrive Radio, Taylor spoke about the progress of the recording sessions for the band's follow-up to 2019's We Are Not Your Kind album, revealing that the plan to release new album is in spring this year.
"When we started first putting the new music together, it was a lot of flying around, people doing it in certain spots and trying to get the best out of it even though we were in the confines of lockdowns and stuff," Corey said. "So it was tricky. But we had a great producer with Joe Barresi, and he knows how to get the best out of pretty much any band that he's ever worked with. He's super rad and loves what we do, which sometimes that's all you need — is just somebody going, 'We're gonna do this.'
"So he would come into town so I could do the vocals. He would fly out and get the guys together to do the guitars and stuff, get them together with [drummer] Jay [Weinberg] while the drums were going on. We were able to really kind of pull off something crazy. And now we're about… I'd say we're about 90 percent away from the album being finished. And it's really good; I'm really, really stoked on it. I actually like this one more than I like We Are Not Your Kind, and I loved We Are Not Your Kind."
As for when the new SLIPKNOT album might see the light of day, Taylor said: "The goal right now — and I don't wanna talk out of turn — the goal is to get it ready for mix [in] January so we can get it out two or three months after. I have four songs that I have to sing, 'cause I'm redoing one that I wasn't happy with; I listened to it, and I was, like, 'I can do that better.' And honestly, very rarely have I ever had the opportunity to do that.
He continued: "So it's actually kind of rad that I'm getting a chance to go in and go, 'You know what? I can beat what I did.' But that's gonna take me five days to get that done. 'Cause I'm gonna do those four songs and then go back through and do punch-up on anything that I'm just not feeling. But it's gonna be very, very little 'cause I'm pretty down with everything that I've got. So once that's done, man, it's just a matter of having Joe mix it. And I know [percussionist] Clown's [Shawn Crahan] been working on the artwork. We're working on a video for… obviously for [recently released single] '[The] Chapeltown [Rag]', but also probably for whatever the first single's gonna be. Yeah, it's just a matter of time before we start getting it together."