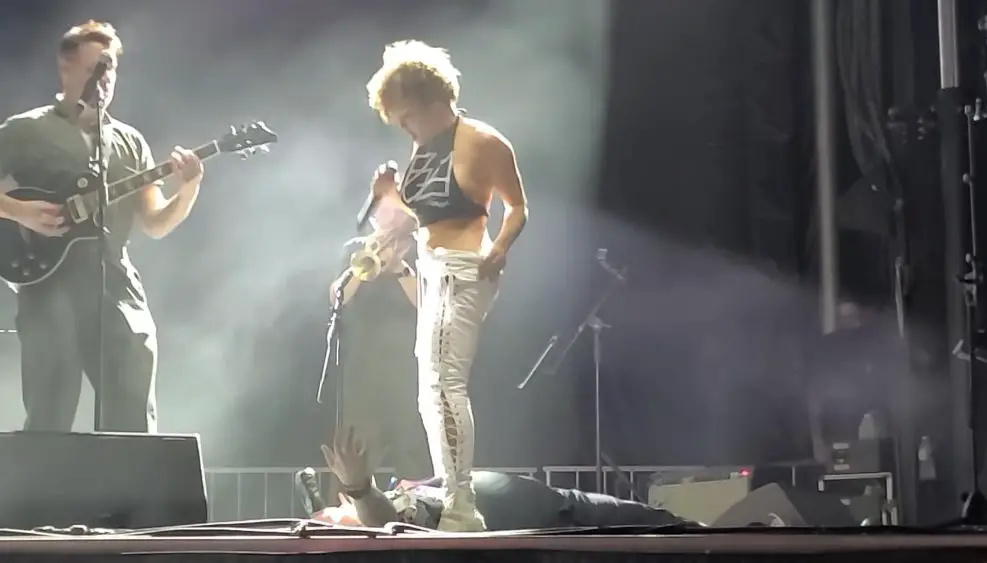 BRASS AGAINST singer Sophia Urista has announced she is not dwelling on recent incident which many fans didn't seem to have a problem with.
Urista recently took to her Instagram page writing, "The show must go on 😎 & I've been working on this original project for 2 years. [email protected] for opening for me & to legendary Brooklyn venue #saintvitus for having us."  She also had a message for the ones who still haven't moved on from the peeing incident writing, "If you're not over the incident yet, feel free to use my comment section to take a piss. Otherwise, click link in bio n GET YOUR TIX! DOORS: 7:30 pm /SHOW: 8 pm"
Urista has previously issued public statement after urinating on fan at this past week's 'Welcome To Rockville' festival in Daytona Beach, FL.
Urista reportedly complained of having to pee several times during the band's set before securing a volunteer from the crowd to serve as her toilet while she and her bandmates covered RAGE AGAINST THE MACHINE's "Wake Up."
Before inviting the male fan to join her, Urista told the crowd, "I gotta pee. And I can't make it to the bathroom. So we might as well make a show out of it."
 "Hey everyone. I want to speak to my performance at the Rockville metal festival in Daytona," she wrote in her statement. "I have always pushed the limits in music and on stage. That night, I pushed the limits too far.
"I love my family, the bands, and the fans more than anything and I know that some were hurt or offended by what I did. I apologise to them and want to let them know that I didn't mean to hurt them. 
"I am not a shock artist. I always want to put the music first. I'm grateful for all your love and continued support." 
While it was previously reported that a police investigation had been launched following a complaint about Urista's actions, Daytona police have clarified that "no incident report was created because we didn't actually speak to the reporting party."
"She spoke to a county dispatcher initially," the spokesperson told The Daytona Beach News Journal. "We tried calling her back twice and received no response. Beyond that, we're not giving any further comment on this matter."