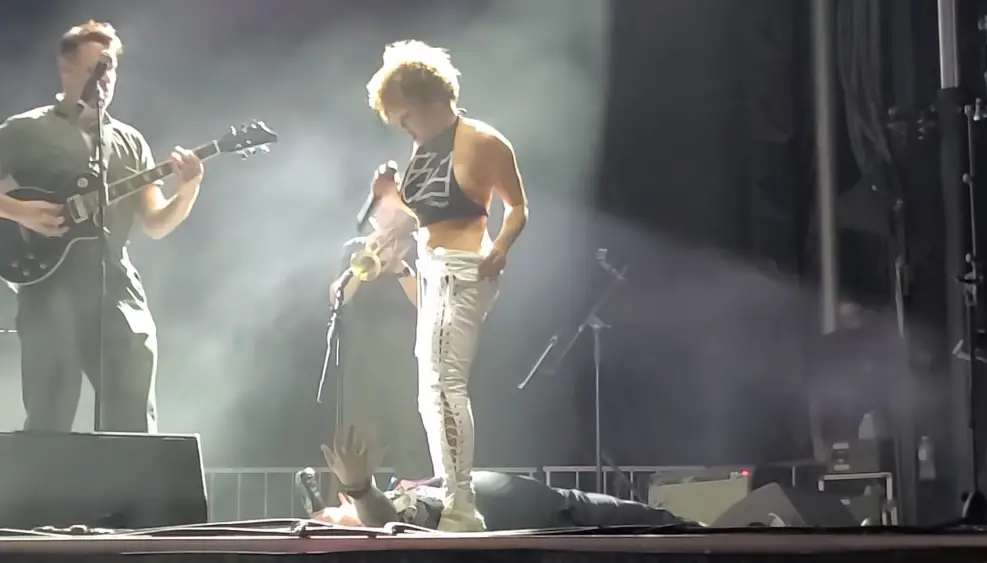 The Daytona Beach Police Department are investigating into the recent onstage antics of BRASS AGAINST singer Sophia Urista at this past week's 'Welcome To Rockville' festival in Daytona Beach, FL.
The Daytona Beach News-Journal reports that the incident was brought to the attention of local authorities and the matter is currently being looked into. Like most of U.S., It is presently illegal for one to expose their sexual organs in public or in the private premises of another in Florida if done so in a vulgar or indecent manner.
If found guilty, Urista could face a fine of $1,000 or up to a year in jail.
As reported, Urista urinated on a fan during the band's concert this past Thursday, November 11th at Welcome To Rockville festival.
Urista reportedly complained of having to pee several times during the band's set before securing a volunteer from the crowd to serve as her toilet while she and her bandmates covered RAGE AGAINST THE MACHINE's "Wake Up."
"We are aware of the situation. We do not condone the inappropriate behaviour that was displayed and have addressed this directly with the band, as well as other artists to ensure something like this doesn't happen again," said a statement from festival organiser Danny Wimmer.
BRASS AGAINST have quickly issues a statement, apologizing: "We had a great time in Daytona last night we Welcome To Rockville," band wrote on social media.
"Sophia got carried away.
"That's not something the rest of us expected, and it's not something you'll see again at BRASS AGAINST shows."