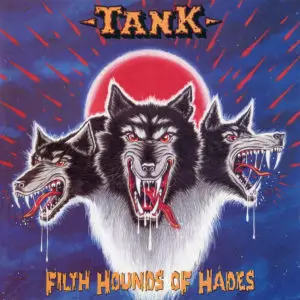 The impression I got the first time I heard "Filth Hounds of Hades" was pretty different than the one I'm having now maybe 15 years later. Fifteen years ago I had the impression that TANK were faster and more Motörhead than I see now. Today I think this album is more varied and with many other influences. Maybe it was because yesterday I heard "Don't Run Away" and I could see where TANK come from with all the 1970s influences as differente as UFO. I could even recognize some groove in the album. That's absolutely new to me.
Ok, the album is opened by the fast as the speed of light "Shellshock" that was alreay released on the previous 7″ album. The track is frentic and high adrenalized. As I said before, TANK smell like gasoline and smoke and "Shellshock" showcases everything the band's got. A great album opener with inspired guitar riffing and hammering druming. It's pretty difficult, I mean, almost impossible not to pogue and headbang while listening to it. What dpo I like best? The guitar solo interventions that cut like a knife. Following track "Run Like Hell" was also previously released and this version is totally the same from "Don't Run Away." The same happens to "Blood, Guts, and Beer" a track that has the aforementioned groove and the most interesting guitar leading riff. Things start to get different from "That's What Dreams Are Made Of" which has a never noticed remarkable taste of Ted Nugent from the time he was much interested in playing the guitar and writing marvelous songs. Now I see that "Don't Run Away" wasn't one in a million album with all the 1970s influences. I must say that the echos from guitar solo in the middle of the song made a mood that reminded me a lot Led Zeppelin.
I'm writing all this just because I want to say that TANK have no Motörhead influence. They really do but it's not all they have to offer. TANK are much more than I could see in the past. That's why it's so good to listen your favorite bands after a long while. One may discover wonders that one couldn't recognize back then. One thing that didn't change at all was my impression about the choruses in the songs. They continue to be absolutely catchy and cool. From where I'm standing "Filth Hounds of Hades" deserves a place among the best Metal albums ever. It's simply a masterpiece of speed, power, and finesse. Yes, finesse.
TANK "Filth Hounds of Hades" will be released on April 06th via High Roller Records.
To be continued…
Track Listing:
Shellshock
Struck by Lightning
Run like Hell
Blood, Guts and Beer
That's What Dreams Are Made Of
Turn Your Head Around
Heavy Artillery
Who Needs Love Songs
Filth Hounds of Hades
(He Fell in Love with a) Stormtrooper
The Snake
Steppin' on a Landmine
(He Fell in Love with a) Stormtrooper (7″ Version)
Blood, Guts And Beer (Live Version)
Watch "Filth Hounds of Hades" official video here: