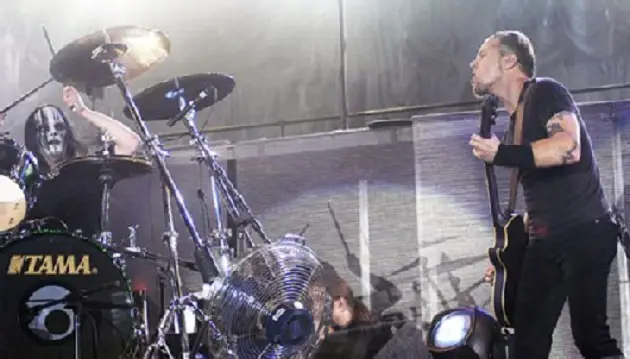 As you may or may not know, late Joey Jordison had a rare privilege of playing drums for METALLICA at the Download Festival back in 2004.
Former SLIPKNOT drummer stepped in for Lars Ulrich suffered an anxiety attack, prompting the metal legends to temporarily hire Joey and SLAYER's Dave Lombardo to fill in the empty seat.
In 2017 interview with "Talk Music Podcast," Jordison said about the show: "SLIPKNOT and METALLICA were on tour together — when we hit the Download Festival, I got offstage, I barely pulled my mask off and they said that James Hetfield needed to talk to me. Even though we were on tour for a while, it was a bit of a shock. He said, 'Lars can't make it to the show. Can you fill in?'
"I just freaked out. I instantly said 'Yes.' Without METALLICA, I wouldn't play the way that I do. I got into their rehearsal room, sat down with them and started hammering out song. It felt great.
"They made me feel really comfortable. They didn't make me feel uneasy or anything like that. They were like, 'It's gonna be fun! We're gonna go up there crank it up!' They made it really easy for me. It wasn't freakish, it wasn't nerve-wracking; I just sat down, counted off and away we went… It turned out way better than I though. It wasn't one of the best shows I ever played, but it's just crazy and amazing that I got that opportunity and I'm very thankful."
Joey Jordison passed away peacefully on July 26th in his sleep at age 46.