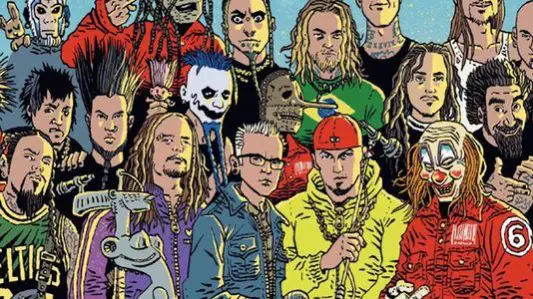 Folks over at Metal Hammer have compiled a new list of Top 40 nu-metal songs, featuring some of the genre's all-time favorites.
Metal Hammer noted: "The turn of the century was a more innocent time. A time when spiky red hair, parachute jeans, band hoodies and shouting at our parents were all the rage, and the radio waves were filled with crunching guitars growling men with questionable facial hair arrangements.
"That's right – for us, the turn of the century will forever be synonymous with one thing, and one thing only: the reign of nu-metal."
List can be seen below, for commentary on each song, visit the original source.
40. Ill Niño – 'What Comes Around'
39. A – 'Nothing'
38. Orgy – 'Blue Monday'
37. One Minute Silence – 'South Central'
36. System Of A Down – 'War?'
35. Deftones – 'My Own Summer (Shove It)'
34. Incubus – 'Drive'
33. Linkin Park – 'One Step Closer'
32. Union Underground – 'Turn Me On Mr. Deadman'
31. Static-X – 'Push It'
30. Spineshank – 'New Disease'
29. Evanescence – 'Bring Me to Life'
28. Saliva – 'Click Click Boom'
27. Soulfly – 'Bleed' (feat. Fred Durst)
26. Snot – 'Snot'
25. N.E.R.D. – 'Lapdance'
24. Machine Head – 'From This Day'
23. Incubus – 'Certain Shade of Green'
22. (hed)p.e. – 'Bartender'
21. Taproot – 'Again and Again'
20. Adema – 'Giving In'
19. Hoobastank – 'Crawling in the Dark'
18. Crazy Town – 'Butterfly'
17. Limp Bizkit – 'Rollin"
16. Korn – 'Freak on a Leash'
15. Coal Chamber – 'Loco'
14. Slipknot – 'Wait and Bleed'
13. Kid Rock – 'American Badass'
12. Mudvayne – 'Dig'
11. American Head Charge – 'Just So You Know'
10. Disturbed – 'Down With the Sickness'
9. Drowning Pool – 'Bodies'
8. Alien Ant Farm – 'Movies'
7. Deftones – 'Back to School'
6. Linkin Park – 'Points of Authority'
5. P.O.D. – 'Alive'
4. Papa Roach – 'Last Resort'
3. System Of A Down – 'Chop Suey!'
2. Korn – 'Blind'
1. Limp Bizkit – 'Break Stuff'