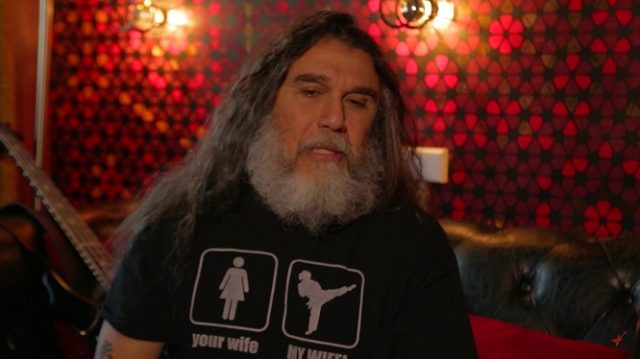 Tom Araya's wife says that he has not questioned his decision to embark on one final SLAYER tour before the band calls it quits.
Back in January, SLAYER, one of metal's most popular and influential outfits of the past four decades, announced its farewell trek via a 30-second video. The group also confirmed that the first leg of its last-ever North American run of dates would feature support from LAMB OF GOD, ANTHRAX, BEHEMOTH and TESTAMENT.
Sandra Araya, who has been married to the SLAYER frontman for more than 20 years, told the Metal Pulp And Paper web site that the announcement that the band was pulling the plug on its nearly four-decade-long career didn't come as a surprise to her. "Not to me," she said. "I can't comfortably go into too much detail. I'll just leave it with a no."
Asked if the decision to end SLAYER was a difficult one for Tom and guitarist Kerry King to make, Sandra said: "Tom never second-guesses any decision he makes. I have no idea about Kerry."
Sandra also confirmed that she and Tom "have some ideas and plans" for how they plan to spend their post-SLAYER years, although she did not offer any details.
Tom has been vocal in recent years about his growing distaste for the touring lifestyle and his desire to spend more time with his wife and kids at home. "There came a time where I became a family man, and I had a tough time flying back and forth," he said in a 2016 interview. "And now, at this stage, at the level we're at now, I can do that; I can fly home when I want to, on days off, and spend some time with my family, which is something I wasn't able to do when [my kids] were growing up. Now they're both older and mature. So now I take advantage of that." Araya added: "Yeah, it just gets harder and harder to come back out on the road."