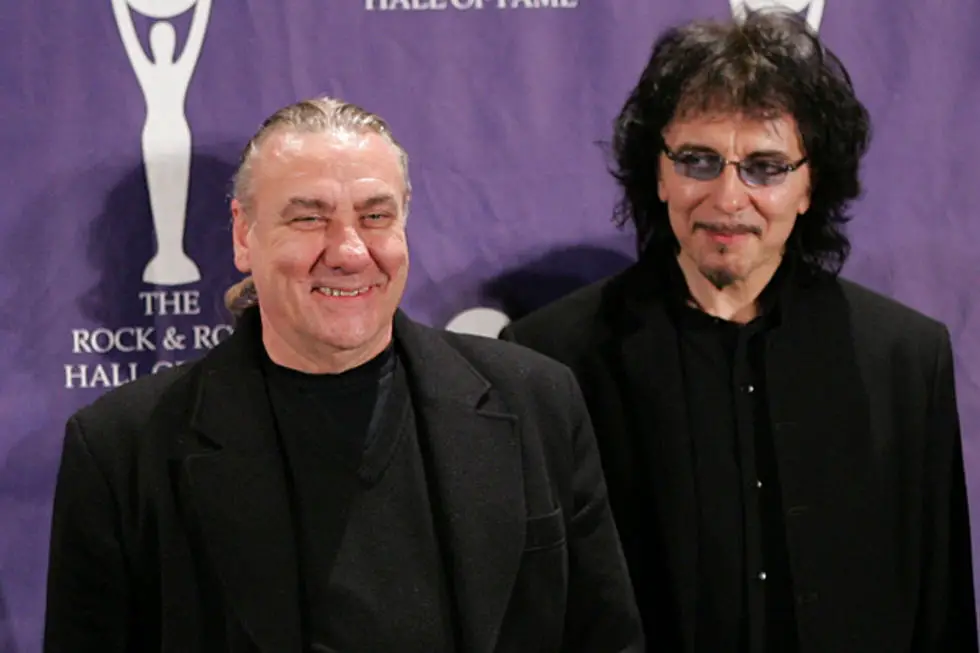 In a new interview with Ultimate Classic Rock, legendary BLACK SABBATH guitarist Tony Iommi looked back on the band's Dio era and the 1980 departure of drummer Bill Ward from the group, after the Heaven and Hell album that same year.
"Once we'd got Ronnie and we were at a show in Denver — and Bill just left. He'd just got in his bus and gone. It really shocked me because I'd known Bill long before the others, really. I played with Bill for two or three years before we ever got together with Ozz [Osbourne] and Geez [Butler]. It was a hell of a shock. Again, Bill had gotten to a point where he was drinking too much, and he wasn't happy anymore, and for him, the idea was to run away from it.
"We thought he might come back, and eventually, of course, he did [for 1983's Born Again], but then he went again [in 1984]. He started drinking again, so it was very difficult."
On how drummer Vinnie Appice fit the band as Ward's replacement, Iomi said: "Bringing Vinnie in was another complete shock for me and I was absolutely petrified. I must be honest: I hadn't played with another drummer for many, many years. Bill knew everything I did and we followed each other, really down to the T, but bringing somebody like Vinny in was a different style drummer. We auditioned him in L.A., and two or three days later we were playing a festival in bloody Hawaii.
"And Vinny was confident," Iommi continued. "He said, 'I'll be all right. I've made notes of all the songs, and where we'll do this and do that,' but I wasn't confident. On the day of the gig, I remember I'm pacing up and down and Ronnie's going, 'Don't worry! Stop worrying. It'll be all right. It'll be okay,' trying to calm me down. [Laughs]
"We walk onstage, and there's this tiny kit on Bill's huge drum riser, which looked ridiculous – it looked like a toy kit – which was Vinny's, of course. And I thought, 'You're never gonna be able to hear it!' Fair dues, Vinny really did pull it off, and he'd done a great job.
"The only thing was, it started raining and Vinny's got all his notes and they all smudged. It was like, 'Oh, no! What next, for God's sake!' [Laughs.] But we managed to do it, and Vinny really did do a good job. And from then on, he got the hang of how we worked At first, when we used to talk with each other, and we're all used to the same accents, Vinny couldn't understand what we were saying. He used to say to Ronnie, 'What'd they say?' [Laughs] And Ronnie would explain to him. It was all a learning curve for all of us and, of course, by the time we got on tour, Vinny was playing really great."