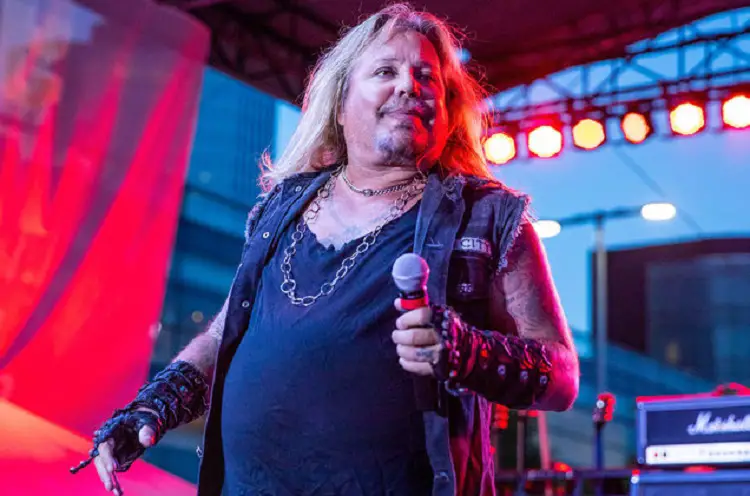 MÖTLEY CRÜE singer Vince Neil will headline the Red River Valley Fair on July 16 at the Red River Valley Fairgrounds in West Fargo, North Dakota. Also scheduled to appear on the bill are GREAT WHITE and VIXEN.
Neil's appearance at the Red River Valley Fair is raising eyebrows with CRÜE fans who are concerned that the band's "The Stadium Tour" will once again be postponed after it was originally scheduled to take place in the summer of 2020 but ended up being pushed back to 2021, and now is scheduled to take part this year.
As it stands, Vince is scheduled to perform with MÖTLEY CRÜE one day before the Red River Valley Fair, on July 15, in Cincinnati, Ohio at Great American Ball Park and again one day after the West Fargo gig, on July 17, in Milwaukee, Wisconsin at American Family Field.
Last month, it was rumored that Neil entered rehab in Texas to help with his battle versus alcoholism.
It was reported that 60-year-old singer was advised by his longtime friend Ozzy Osbourne, whose daughter — Kelly — went to seek treatment at the same place.
Nikki Sixx recently said that MÖTLEY CRÜE are still on track to finally launch its long-awaited reunion this year. The bassist addressed the status of "The Stadium Tour" while answering a fan question on Twitter. Responding to a fan who wrote, "I'm hopefully going to see The Crue in Houston Tx Aug 2022!", Sixx said, "We 100% plan on touring in 2022. See ya at the show."