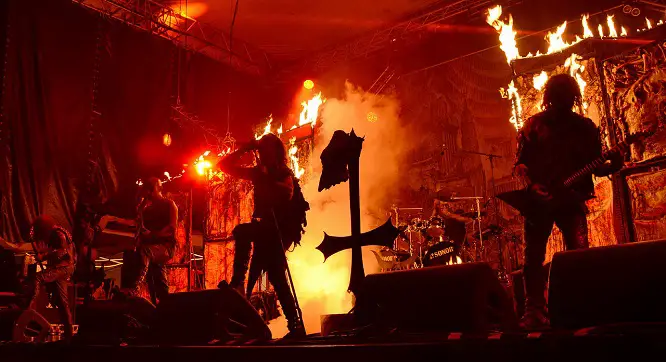 Tonight's WATAIN's concert in Singapore has been canceled over concerns about the Swedish black metal band's history of "denigrating religions and promoting violence."
The Infocomm Media Development Authority (IMDA) had initially allowed the concert with a rating of Restricted 18 (R18), but called it off at the last minute, following advice from the Home Affairs Ministry (MHA).
"Given the band's history, IMDA imposed further stringent requirements including the removal of songs which are religiously offensive, that the band cannot make references to religion or use religious symbols and that no ritualistic acts are performed on stage," IMDA said in the statement.
"MHA has expressed serious concerns about the concert, given the band's history of denigrating religions and promoting violence, which has potential to cause enmity and disrupt Singapore's social harmony.
"WATAIN is known for its Satanist views and some of their previous controversial performances involved animal carcasses and throwing pig's blood on its audience. The band also espouses anti-Christian views and advocates Satanism through their songs and endorses violence.
"MHA has therefore asked IMDA to consider cancelling the concert for reasons of public order, and IMDA has agreed."
One of the concert organizers told Channel NewsAsia he was expecting a crowd of about 150. It cost between S$15,000 (approximately $11,000 USD) and S$20,000 (approximately $14,700) to bring the band to Singapore.
"Everything was fine, we followed the rules and protocol," he said. "We had everything solid and because certain things happened, it was canceled."
Singapore home affairs minister K. Shanmugam explained to reporters why authorities canceled the WATAIN concert just hours before the group was due to perform.
"Over the last few days, there were a lot of concerns expressed," he said (see video below). "And if you look at the band, they do have a history — very offensive towards Christians, Jews, supportive of violence, including encouraging the burning of churches. They have even said they encourage any terrorist act in the name of the band and various other statements which are quite offensive."
Meanwhile, an online petition to stop metal bands from playing in Singapore has been signed by more than 16,000 people.