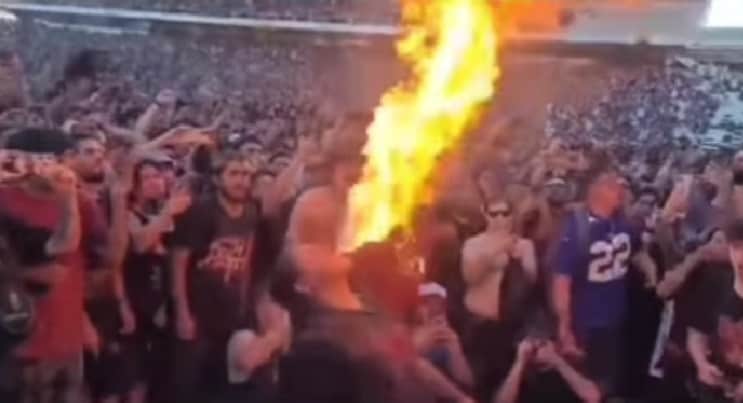 We all know how hot and sweaty mosh pits can be, with fists flying around everywhere. The last thing any crowd needs is extra heat, but that's exactly what happened on December 11 during PANTERA's show in Knotfest, Chile. One fan decided to show off their fire-breathing skills and added even more heat to the already raging pit.
The reunited band's performance featured a large circle in the pit, and the daredevil shot fire from his mouth multiple times into the center as other people danced around him.
The situation certainly got intense, but it looked amazing regardless. We can only wonder what the security guards must have thought about the stunt; protecting an audience from metal-loving pyrotechnics probably wasn't covered in their training manual.
As previously reported, PANTERA surviving members, Philip Anselmo and Rex Brown, reformed the band with Zakk Wylde on guitar (from OZZY OSBOURNE and BLACK LABEL SOCIETY) and Charlie Benante on drums (from ANTHRAX). They will be playing at festivals all over North America, South America, Europe as well their own headline concerts.