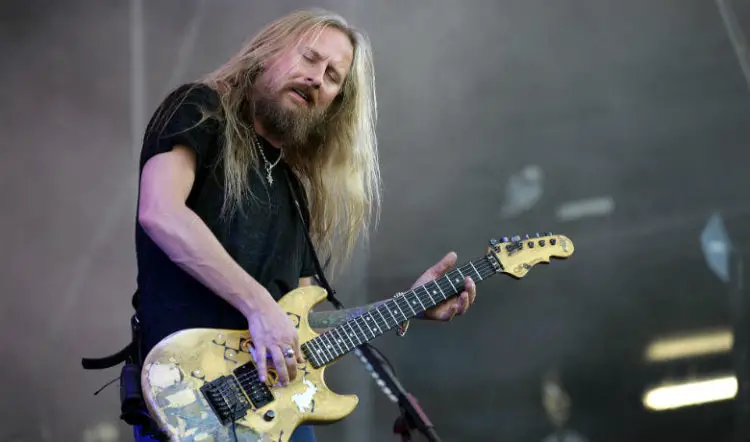 As part of their annual fantasy football charity eBay auction, ALICE IN CHAINS are offering one fan a chance to sit down with guitarist Jerry Cantrell for a private guitar lesson.
The lesson will go to the highest bidder, and the current top bid is $2,600.
50% of proceeds will benefit Music For Relief's Fire Relief Fund supporting firefighters and organizations who are battling extreme fires throughout California. The other 50% will benefit Big League Impact; an organization working with current and former Major League Baseball players to develop and produce high-impact charitable initiatives that address the world's most pressing needs.
The auction's description is as follows:
"Enjoy a private guitar lesson with legendary guitar player Jerry Cantrell in Los Angeles. Travel not included. Exact details to be discussed with winner and management.

"A background check may be required for the winner. If the winner fails the background check, he/she will forfeit the prize. Please bid accordingly. This package does not include any items/services that are not detailed in the above description. Any travel, meals or accommodations are the sole responsibility of the winner. This package must be for use by the winner only unless given as a gift.

"If given as a gift, the recipient's name must be provided immediately following the auction. Otherwise, this is not transferable by the winner and may not be sold, otherwise transferred or used for any other purpose, including promotional, commercial, advertising, or other trade purposes.

"Respect for talent and their staff will be expected at all times. Inappropriate behavior by the winner could result in the immediate conclusion of the experience with no refund."
You can check the auction at this location.