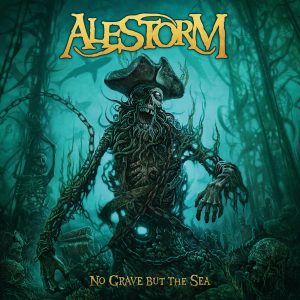 Alestorm is one of the very few, special bands that have managed to do a few things in the world of metal. (1) They created their own little niche of metal with pirate metal that they are still the undisputed kings of, (2) they've gathered a great following with this gimmick alone, and (3) they've become very successful for their style. Whether you see it as a joke or an excellent act like none other, there's no denying that Alestorm is one of a kind, and their records have always reflected that. Pirate metal only gains more ground with every single album, and where even I thought that Alestorm couldn't do any better they put together their fifth full-length album "No Grave But the Sea". When I say this piece blew me away, I mean that this could possibly be Alestorm's magnum opus at this point in their epic decade of swashbuckling.
First, one can determine that there are quite a few more "party" songs on "No Grave But the Sea" than on any other record put out by Alestorm on their previous four efforts, and I know that can, will, and already has caused some turmoil amongst fans. Some would think that Alestorm is becoming a party band that has "lost sight" of their "original goal". They sing about pirates which to quote the lyrics from "Mexico": a pirate's life is simple; we drink, and steal, and kill. You can do so much with that, and by no means whatsoever is "No Grave But the Sea" a party album. In fact, it's got what I find to be a perfect balance between the epic high sea tales such as the title track and "Treasure Island" as well as some hijinks amongst friends out to get wasted and just be bros as can be seen in the two currently released singles of "Mexico" and "Alestorm". And it's that balance that makes "No Grave But the Sea" such an enjoyable ride as not only does the record stick true to the original form of Alestorm, but it also showcases them experimenting in a few ways that include more "party" songs. Another experiment that they pulled off phenomenally is the introduction of growls brought forth by their drummer of six years who adds an amazing new dynamic to the mix that works perfectly with what Alestorm creates within these ten tracks. And all of that doesn't even include the special edition of "No Grave But the Sea" that has all the vocals replaced by dogs barking and is aptly named "No Grave But the Sea For Dogs". Easily Alestorm's magnum opus.
With all the other different and then similar tasks that Alestorm took on with "No Grave But the Sea", it makes for a stunning record that's both an impressive piece musically as well as immensely entertaining for anyone looking for a damn good time. It takes a special band to do that, and Alestorm has been honing their skills for ten f*cking years. And as someone who's found loads of fun and entertainment out of four full-length albums, I can happily say that "No Grave But the Sea" is one of the most diverse, dynamic, fun, and interesting experiences that Alestorm has ever delivered.
"No Grave But the Sea" releases on May 26th via Napalm Records! You can pre-order the record via iTunes here, as well as listen to the single, "Mexico", below.
Track Listing:
No Grave But the Sea
Mexico
To the End of the World
Alestorm
Bar und Imbiss
F*cked with an Anchor
Pegleg Potion
Man the Pumps
Rage of the Pentahook
Treasure Island