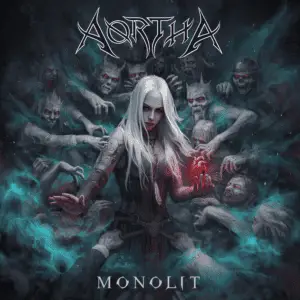 That Judas Priest are one of the tytans, the guardians, the defenders of the metallic faith almost everyone of us agrees even though I've been having contact with some pretty weird ideas about the band. For instance, the vocalist of a very well-0known band said that Judas Priest aren't Metal; they are Classic Rock. Needless to comment. Those ideas aside, we fans are always wondering what if those loved bands changed a little as we expected. What if, just what if Judas Priest got more melodic, faster, and even more aggressive to the point to be a technical Melodic Thrash Metal band? No need to worry about the answer, Aortha with "Monolit" kindly answered this for all of us. But that didn't come easily for me. It was only when I was listening to the fourth track "Forging the Locus" that the idea came to my mind. Before that, I was wondering where was that I heard something similar. True.
Ok, it's not all the album that falls into this idea. Maybe, just maybe, there are tracks as "Divine Future" that can't be labeled this way. But the idea is here. At least, it could be seen as a track from "Painkiller" era. What, of course, is a honour to any Metal band from this sad and lonely and pathetic little planet. To some extent, if my dear child of the night doesn't follow this weird idea of mine "Monolit" could be considered a 1990's Teutonic Metal. Strong guitars with fast riffings and some melodic and harsh vocals. By the way, the album features only six vocalists Kyle Thomas (Exhorder), Diego Valdez (Dream Child), Denis Belanger Snake (Voivod), Alessia Scolletti (Temperance, Era), Netta Laurenne (Smackbound, Laurenne/Louhimo) and Christian Älvestam (Scar Symmetry). Guitarists are also a team Predrag Glogovac (Monolit), Slobodan Ernjaković (Monolit), Saša Kapor, Igor Paspalj, and Branko Stiković Stika. Pretty much of time, hm?
Well, "Monolit" really pull the strings of Metal music enlarge its bounderies. The intro "Symposium" the piano leads the way in a experience that I haven't ever tried before. The effect of the overdriven piano is just woundrous. To listen to this kind of album was really an interesting experience. Mandatory album for those who are in contact with top notch Metal music.
Aortha "Monolit" is out September 1st.
Track Listing:
Symposium
Those That Should Not Exist
Last of Our Kind
Forging the Locus
Keep the Dream
Maximus Metallus
Divine Future
When All Around You Is Madness
Timeless Soul Cure
She
Watch "Last of Our Kind" official music video here: