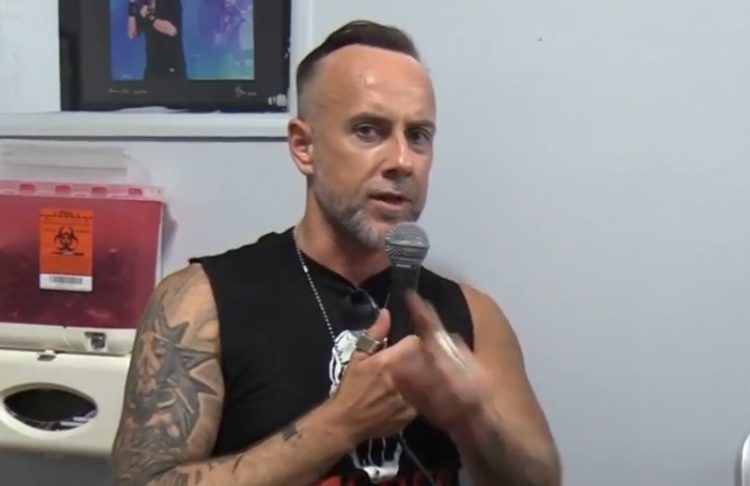 During his recent chat on Australia's "Everblack"podcast, BEHEMOTH leader Adam "Nergal" Darski spoke about the "Lords Of Chaos" movie,
saying that it's a "really well-done" movie that offers up a "trivialized" version of the events it is based on.
"It's not a bad movie. The whole story is way too trivialized, but then again, hey, it's there to be sold in movies to the kids. The guy [Jonas Åkerlund] said it from the very beginning: 'This is not a documentary.' And it's not. He colored it up a little bit — not a little bit; quite much — and some of the characters are… I mean, he really paid attention to the details. And some of the scenery and photos and actions, they were replicated, like, identically, really. I was, like, 'Oh, sh*t! That looks like the photos that I've seen, or the show that I've seen, or this and that.' But overall, it's pretty shallow.
"It's really well done. Jonas Åkerlund is amazing. I mean, his talents are amazing. But still, keep in mind, it's a shallow Hollywood story now. But I'm far from judging it. And when I read comments from [people online], 'Don't go. Don't watch it.' I'm, like, 'No. Go and watch it and make up your mind and make your own opinion and f*cking don't even listen to mine.'"
"Lords of Chaos" is a 2018 black comedy-drama directed by
Jonas Åkerlund and written by Dennis Magnussonand Åkerlund. It stars Rory Culkin, Emory Cohen, and Sky Ferreira.
It is based on the 1998 non-fiction book of the same name by Michael Moynihan and Didrik Søderlind, which follows a series of crimes that occurred in Oslo, Norway in the early 1990s surrounding the black metal bands MAYHEM and BURZUM. The film premiered at the 2018 Sundance Film Festival.