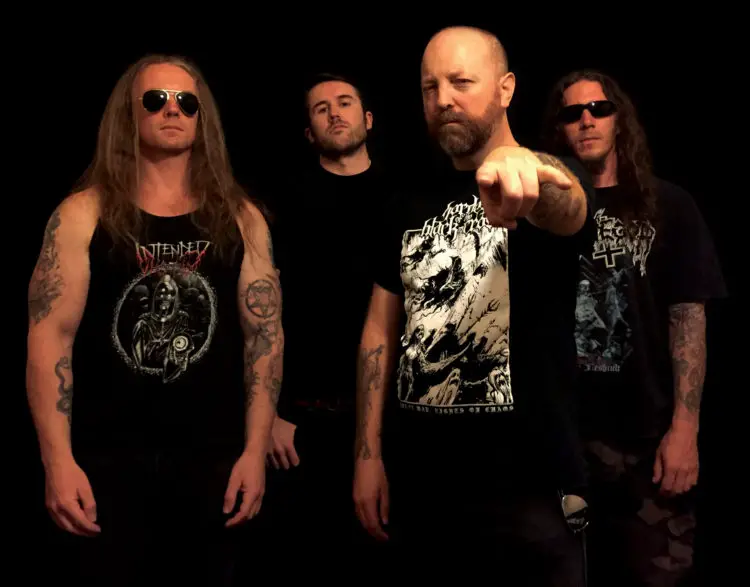 Long and winding are the roads of creation. It's been a 13 years long wait between the debut album "From Hell" and the upcoming second album by Australia's BEYOND MORTAL DREAMS. We can now loudly proclaim, the second album "Abomination of the Flames" has arrived to unveil one of the best kept secrets of the, not-only Australian, death metal scene. The band did not get stale over the course of time, not at all, it is bound to explode and destroy at the forefront of what is present and future of this style.
Seven are the songs on "Abomination of the Flames," seven are the obscure realms of ascending devastation through which BEYOND MORTAL DREAMS navigate flawlessly. It's a grand tour of, at times, cinematic proportions. The complete output is as bestial and brutal as elaborate and intelligent … and everything in between. The eagerness to explore, destroy and conquer in order to create has prevailed and strengthened in BEYOND MORTAL DREAMS. Composition has a prominent spot on the album and ensues the devastation hits on the most profound levels.
Inside their music, BEYOND MORTAL DREAMS genuinely interweave thick, lava–like production, mammoth riffs, sinister grooves, galloping bestial black/death elements, atmospheric synths and solos. In fact, we can witness three decades of top-tier influences, musical experience packed and put under revitalizing perspectives. It's extremely difficult, or say rare, to process and create something of this size. The guitar solos are another important aspect of the band's essence, always have been. They are a transcending element with depth, not a plain show off. The presence of synths in the music can not be omitted either as it adds on some truly elevating vibes forming another crucial layer in the band's music in order to guide the listener into those otherworldly spheres beyond the mortal dreams. There's beauty in things dark, did you know? "Abomination of the Flames" is a complete, senses-saturating, imaginative experience. A set of really powerful, majestic hymns of desolation have been created.
And so there it stands, a genuine, forty minutes long record forged from the finest ingredients translated into one exquisite, massive slab of Death Metal which resides in its own sphere. One can't reinvent the wheel but can use the wheel and have an incredible ride that can appear familiar but when it's over it just feels like no other trail  before. Death metal has not been this incredibly heavy, articulate and savage as well as atmospheric in a long time. The album you have in your hands is not a stylization of the current hey–day, it is a result, an authentic effort which took many years to grow and mature into what we can hear now.
Fans of death metal, new and old, light-up the fires, the time to meditate in flames has come.
Read our review here.