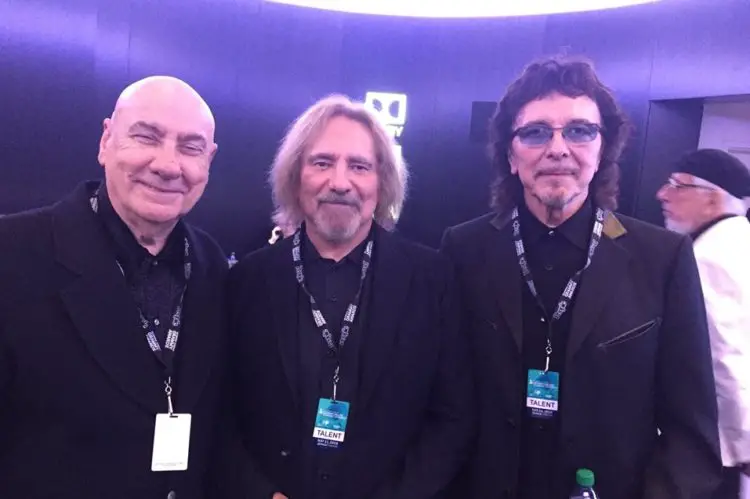 BLACK SABBATH's Tony Iommi and Geezer Butler have reunited with their estranged drummer Bill Ward "Grammy Salute To Music Legends" awards ceremony and live tribute concert at Dolby Theatre in Los Angeles, California On Saturday night (May 11).
RIVAL SONS performed live for Iommi, Butler and Ward at the event, where SABBATH was honored by The Recording Academy with a Lifetime Achievement Award.
Iommi wrote on Facebook: "Another Grammy! Great performance from Rival Sons yesterday, thanks guys."
Butler tweeted: "Last night at the #grammy #LifetimeAchievementAwards #TonyIommi #BillWard."
The Recording Academy produced "Grammy Salute To Music Legends" in partnership with Thirteen as part of the "Great Performances" series on PBS, set to air later this year.
On 11 November 2011, Iommi, Butler, Osbourne, and Ward announced that they were reuniting to record a new album with producer Rick Rubin and to start touring in 2012. In February 2012, however, Ward left before work commenced on 13, the first studio recording to include original band members Iommi, Osbourne and Butler since the live album Reunion  (1998), which contained two new studio tracks.
Ward said that he had failed to reach an agreement regarding his contract. However, he did later admit that his weight would have been an issue in a 2013 tour. Osbourne also suggested in an open letter that Ward's decision not to take part was down to his health. In April 2015, Ward criticised Osbourne on his Facebook fan page via a letter to his and the band's fans. Which prompted a rebuttal from Osbourne on his Facebook page.