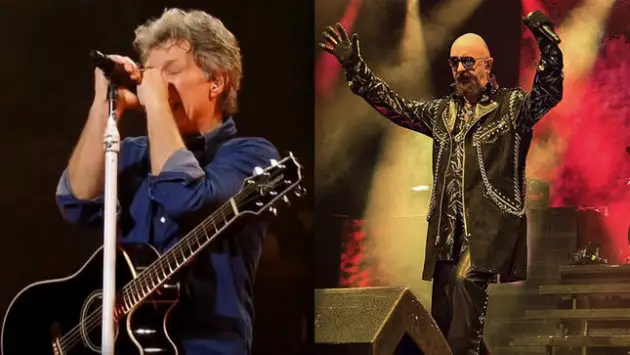 The Rock And Roll Hall Of Fame has officially announced next year's inductees: BON JOVI, DIRE STRAITS, THE MOODY BLUES, THE CARS and Nina Simone will all join the class of 2018. Sister Rosetta Tharpe will be given an Early Influence award.
Passed over this year were British heavy metal legends JUDAS PRIEST, who have been eligible since 1999 but were only nominated for the first time this year.
The 33rd annual Rock And Roll Hall Of Fame induction ceremony will be held at Cleveland's Public Hall on April 14, 2018. An edited version will air later on HBO and there will be a radio broadcast on SiriusXM. Ticket details will be announced in the near future.
The induction ceremony this year could feature a reunion: BON JOVI guitarist Richie Sambora left the group in 2013 under less-than-amicable circumstances. Jon Bon Jovi later told "Today" that he had moved on, though he insisted that he still had a special place in his heart for his former bandmate.
Ballots were sent to a voting group of more than 1,000 artists, historians and music-industry professionals.
The public was invited to participate again this year in the fan vote, which drummed up record numbers with more than 6.8 million votes cast. (Of those, 1.1 million were for BON JOVI.) The top five artists made up a fan's ballot, which counted as a single vote.
"Clearly the enthusiasm of the fans was mirrored by the larger body (of Rock Hall voters)," said Greg Harris, CEO of the Rock And Roll Hall Of Fame And Museum. Overall, "this is a really fantastic group because they span from the 1950s all the way up until today."
Since the Fan Vote was created, the top vote-getter that year (previously RUSH, KISS, STEVIE RAY VAUGHAN, CHICAGO, JOURNEY) has wound up being inducted into the Rock Hall.
Artists are eligible for the Rock And Roll Hall Of Fame 25 years after the release of their first album or single. Criteria for inclusion includes "the influence and significance of the artist's contributions to the development and perpetuation of rock and roll."