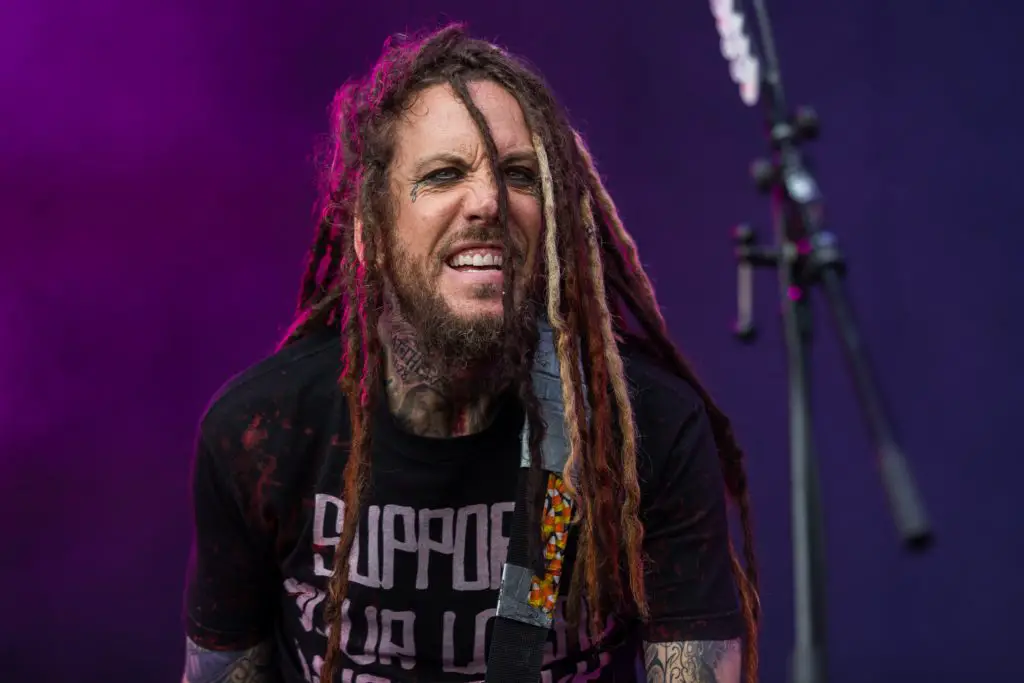 In a new interview with 97.9 GRD, KORN guitarist Brian "Head" Welch spoke about the current status of the band's bassist, Reginald "Fieldy" Arvizu, who announced last month that he would sit out KORN's current tour in order to "heal" after "falling back" on some of his "bad habits."
"Fieldy is good, man. He's at home, and he's with his kids," Welch said. "I wanna say that Fieldy's a good dad. He's a good dude, and he has his life structured. The bad habits he talked about in the press — everyone has their issues in life. But those he'll work on in his own way. But that dude is — I look up to him as a dad, actually. He's had five kids. He always says, 'I've got two thousand kids,' 'cause it feels like it some days. But he's a good dad. He's gone through a lot, man, personally, and he just needs some time off to reflect on himself and his family. That's it."
"Dude, no judgment at all to anyone," he continued. "I was the worst with addiction. So, it's nothing like that. It's all good vibes. There's no negative vibes as far as no hard feelings on either side. So it's all good, man.
"I think [Fieldy] and Jonathan [Davis, vocals] and Munky [James Shaffer, guitar] have gone 26 years with hardly any breaks, man — with a record cycle and a tour. I got eight years off, so I'm rested. And I come back. I'm hopefully looking at Fieldy like he's just gonna take a break, man, and get recharged. So we'll see."
On how KORN ended up recruiting Roberto "Ra" Díaz (SUICIDAL TENDENCIES) to fill in for Fieldy, Welch said: "Well, there's COVID and everything, so when we started talking about it, it was a thing where we wanted to be careful still and whatnot. 'Cause it was a couple, a few months ago or whatever. So we just started brainstorming and hitting up friends and whatnot. We need the slap — we need the slap bass, we need the finger playing, we need someone, 'cause Fieldy is unique — very unique.
"So it just kind of happened that way, man, where Ra, he was open because SUICIDAL is not going out until next year. I think Mike Muir has a back surgery or something this year. So it just worked out, man. He came down, we jammed. He's a really humble guy, and just very talented. He can play anything — from jazz to slap to anything. He played all the songs with, like, three mistakes out of 10 songs or something — little mistakes. I mean, not even mistakes — it was just, like, 'I thought I heard it that way.' They weren't even mistakes. So we were, like, 'Okay. You got it down.'"
Tickets and dates for KORN's tour can be found here.