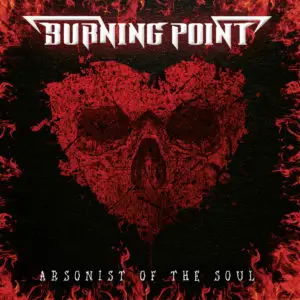 Maybe this is my last review of 2021 and I'd like to finish it off with one great representant of a subgenre that I've never badmouthed: Power Metal. No, my dear fan, never in the five years I've been writing reviews here I've written not even a line to slam Power Metal. I only say that it is predictable. On the contrary, I've written many reviews about Power Metal bands and albums.
Ok, no pun intended I have here in my hands the hottest Power Metal release of this end of year Burning Point with "Arsonist of the Soul" a redundance of burning hot tracks. The album starts with the smoking hot "Blast in the Past" with an insanely fast guitar riffing acompanied by an even faster and insane double bass drumming. The track is in a fuming perfect way to start an album like "Arsonist of the Soul" and maybe a blast from the past since it reminds some Yngwie Malmsteen tracks form the Rising Force era. As it would be expect the album slows down a little from then on as it would be impossible to maintain the same velocity in all tracks. Following tracks as "Calling" add a little epic feeling to the album. Another highlight of the album is the guitar riffing which not only is pretty fast but also pretty technical and with lots of emotion. Luca Sturniolo's voice kind of fill up the guitars intent. It's a very simbiotic relation here with the guitars and vocals. Pay attention to the heavy handed drumming in "Fire With Fire" with that heavy slow guitar riffing. The kind of track band your heads slowly and intensely the slow fire of your fireplace right now.
As though first and opener track "Blast in the Past" would tell "Arsonist of the Soul" doesn't get too linear to the point of agony. The albu manages to be incredibly varied for a Power Metal album – no, no critique here. Burning Point dealt very well with the bad tradition of the subgenre and delivered an album that doesn't lack emotion, velocity, and variation. For instance, "Will I Rise with the Sun" has the intent of a ballad but it's not. It's a slow tempo song that has a magnificent guitar solo and a heartwarming vocal. I only don't know the answer to the track. I guess no one does. And the grand finale "Eternal Life" has a neocalssical feeling but it's much more a song with a strong classical guitar riffing that turns into a powerful Power Metal typical track – powerful Power Metal? Isn't it redundant? I guess it is but whatever.
Burning Point "Arsonist of the Soul" was released on December 17th via AFM Records.
Track Listing:
Blast in the Past
Rules the Universe
Out of Control (Savage Animals)
Persona Non Grata
Arsonist of the Soul
Hit the Night
Running in the Darkness
Calling
Off the Radar
Fire with Fire
Will I Rise with the Sun
Eternal Life
Watch "Arsonist of the Soul" official lyric video: