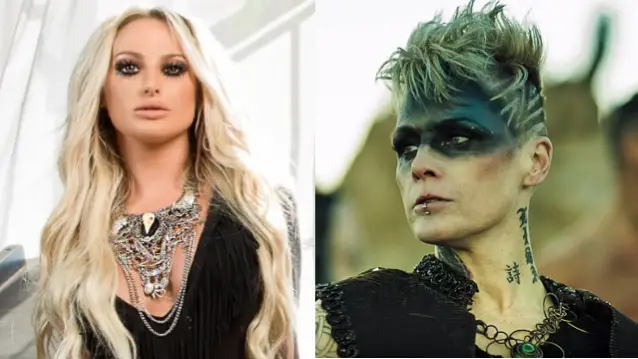 Heidi Shepherd has fired back at Otep Shamaya over disparaging comments the OTEP frontwoman made about BUTCHER BABIES.
In February 2017, Otep appeared on HATEBREED frontman Jamey Jasta's "The Jasta Show" podcast, where she revealed a long-running beef with the BUTCHER BABIES, saying the latter group was "fronted by a couple of f*cking moronic bimbos" who were mad at Shamaya because she "wouldn't hang out and do blow with them" when OTEP and BUTCHER BABIES toured together five years earlier. Otep went on to threaten Heidi personally, saying: "If I see her, I'm going to give her the option of, like, 'Do you want your jaw broken or your ribs broken? Just let me know which your sugar daddy can fix easier.'" Shamaya added that she confronted Shepherd when OTEP played Knotfest in 2014. "I saw her and I was, like, 'Yo, Heidi, I'm right here.' And she just, like, ran away as fast as she could," Otep claimed.
Shepherd, who fronts BUTCHER BABIES along with Carla Harvey, finally responded to Otep's allegations during an appearance on "The Metal Podcast" late last month. Saying that the "beef" between OTEP and BUTCHER BABIES existed only "in [Shamaya's] head," Heidi insisted that she "got some really good bellylaughs" out of hearing Otep's comments about her band.
Asked point blank what the "story" is between BUTCHER BABIES and OTEP, Heidi said (hear audio below): "There's no story. That's the funny thing — it was all freaking made up. There's no story. It's stupid. It's so stupid. It's beyond stupid. I mean, I've seen her so many times over the past couple of years and not one thing has been said. I watched her set from side stage at Knotfest, where she said she confronted me, I watched her set from side stage, [and] she didn't say a word to me."
According to Heidi, she was "just as shocked as everyone else" by Otep's comments on "The Jasta Show". "Not only that, but I haven't done cocaine since I was twenty-two," she added.
"Honestly, it's such a waste talking about it, 'cause it's just so dumb," Shepherd said.
Heidi went on to say that she was did not want to engage in a war of words with Otep because she felt it reflected badly on women who are working hard to make a name for themselves in the hard rock and heavy metal world.
"The rest of us girls, we all get along really well," Shepherd said. "We've created really unique bond between all of us. We all get along so well, and we're all really good friends. I mean, I don't know any other girl in this industry that I don't get along with. Even if I haven't met [some of the girls in the industry], we'll like each other's stuff on Instagram and comment, 'cause we're all just really supportive of each other.
"Why have this cheerleader-type beef?" Heidi continued. "It just makes absolutely no sense. I don't think that that is something that young girls need to see — two metal singers beefing. Leave that to the pop stars. It's just silly."
As for Otep's threat of physical violence, Heidi said: "She knows where I live, so if she wants to come break my jaw, she knows where I live. It's kind of stupid."
On the topic of why BUTCHER BABIES never responded to Otep's comments, Heidi said: "Why I would respond? More hate? It's just silly. I'm not gonna fuel the hatred, To be honest, it doesn't make her look good, and it wouldn't make me look good, 'cause I fueled it. So it's just not something that I care to really be a part of. I'm not sitting here bashing her. I don't hate her as a person. I don't have an opinion of her."
Despite Shamaya's scathing remarks about the BUTCHER BABIES, Heidi insisted that she remains a fan of OTEP's music to this day. "I grew up listening to OTEP," she admitted. "When we got that tour, I was, like, 'Yeah!' I was so excited. First off, it was our first tour in the States. We had toured in Europe and the U.K. with FOZZY before that, but this was our first tour in the States. So I was super pumped. So I've always been a fan of the music."
During "The Jasta Show" interview, Otep also said about the BUTCHER BABIES: "I hate them. I hate those motherf*ckers. Heidi can f*cking suck a fart out of my a—s. F*ck that b*tch, man. She called me a c**t on YouTube. I was nice to them. I took them out as my direct support on my tour and they weren't even signed. I did that as a favor." She went on to accuse BUTCHER BABIES of writing a song about her called "Dead Poet", containing such lyrics as: "She likens herself as to one of the greats, but if you look in her eyes, all you see is hate. She screams her insecurities and the foolish things she thinks. She's just a broken toy in a land of make-believe."
[via Blabbermouth]