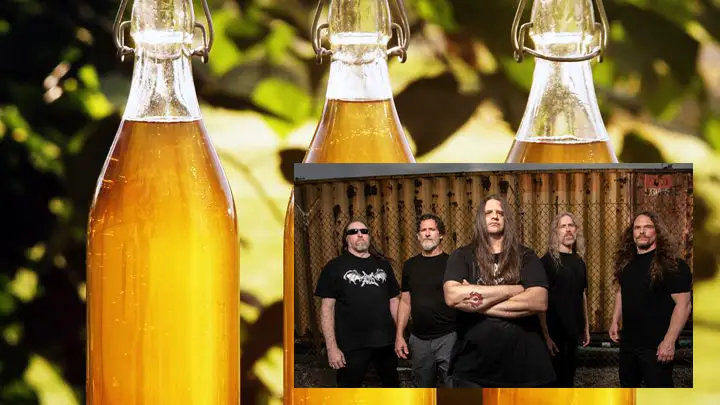 In a new partnership with Wyrd Leatherworks and Meadery., death metal legends CANNIBAL CORPSE announced a new mead honey wine called Unleashing the Bloodthirsty.
Honey wine with blood orange, hibiscus, and safflower is limited to 666 bottles. You can pre-order it here.
CANNIBAL CORPSE has recently announced a short run of East Coast headlining shows this June surrounding their performance at the Decibel Metal & Beer Fest in Philadelphia, Pennsylvania. Support will be provided by SANGUISUGABOGG and 200 STAB WOUNDS on select dates. Tickets are available HERE.
The dates follow the band's US headlining tour, currently underway. A celebration of the 40th Anniversary of Metal Blade Records, the tour kicked off on February 18th in Atlanta, Georgia, and will make its way through over two dozen cities upon its conclusion March 26th in Ft. Lauderdale, Florida. Support is being provided by labelmates WHITECHAPEL and REVOCATION, as well as SHADOW OF INTENT. Shows are selling out! Don't miss it. See all confirmed dates below.
CANNIBAL CORPSE w/ Whitechapel, Revocation, Shadow Of Intent [remaining dates]:
3/25/2022 Jannus Live – St. Petersburg, FL
3/26/2022 Revolution – Ft. Lauderdale, FL
w/ Sanguisugabogg, 200 Stab Wounds:
6/08/2022 The Underbelly – Jacksonville, FL
6/09/2022 The Orange Peel – Asheville, NC
6/10/2022 Hooligans Music Hal – Jacksonville, NC
6/11/2022 Decibel Metal & Beer Fest @ The Fillmore – Philadelphia, PA *no 200 Stab Wounds
6/12/2022 The Broadberry – Richmond, VA
6/13/2022 The Senate – Columbia, SC *no 200 Stab Wounds