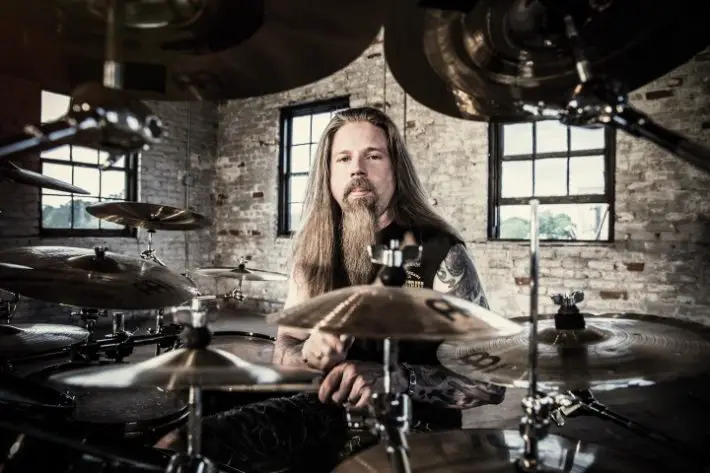 Jonathan Montenegro's "My 3 Questions To" series recently featured former LAMB OF GOD drummer Chris Adler, who contributed to MEGADETH's Dystopia album. MEGADETH earned a prestigious Grammy in recognition of their title track in February 2017. The 59th annual Grammys honored them with Best Metal Performance accolades and rightfully so!
When asked if he was awarded the Grammy statuette for his work on the LP, Chris responded: "The ceremony itself I did not attend. And that was kind of a good and mutual decision in that Dave [Mustaine, MEGADETH mainman] and myself agreed that for Dirk [Verbeuren, current MEGADETH drummer] to feel like he was part of the band and Dave to be supportive of that, he should be the one there. And I had no problem with that. In fact, I was the one that recommended Dirk for the position. So I thought it was great. And they were cool enough to send me my own [Grammy Award] with my name on it. So it's good stuff all the way around. So I was very happy, clearly, with that."
From January to May of 2016, Adler was a major contributor at MEGADETH's numerous live shows for their "Dystopia" album. Unfortunately, when he couldn't perform during late 2015 and early 2016 concerts, his spot was temporarily filled in by Tony Laureano — the prominent drummer from DIMMU BORGIR and NILE who had been working as MEGADETH's drum tech since 2011. Then starting in May 2016 right up until now, Verbeuren has stepped into that role.