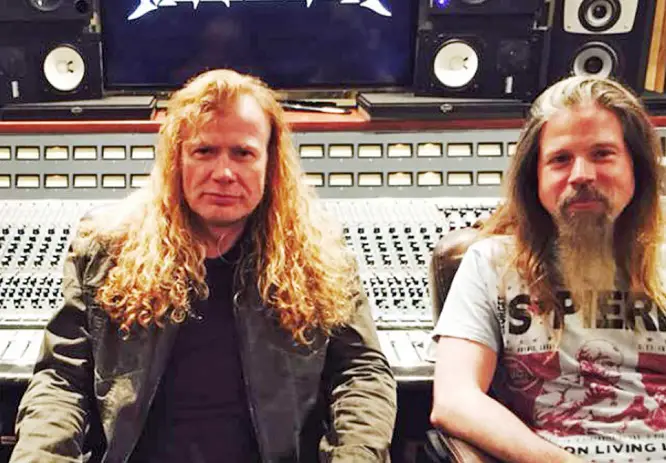 During a press conference in Tel Aviv, Israel on July 1, MEGADETH mainman Dave Mustaine was asked by Machine Music web site what considerations he takes into account when welcoming new musicians, like Adler and Brazilian guitarist Kiko Loureiro, into the band. Mustaine responded: "If you're in the presence of greatness, it's shameful not to allow that to be great. But let me back up though: Chris Adler is not in MEGADETH, he's in LAMB OF GOD. He was a session guy, he was what you could call work for hire. And he has nothing to do with us anymore, and he is with his band. I am very grateful for his contributions, I'm grateful for him introducing us to Dirk. We still haven't announced who our new drummer is going to be, it won't be Chris Adler, because he's in LAMB OF GOD."
MEGADETH has announced SOILWORK drummer Dirk Verbeuren as a temporary replacement for Chris Adler on drums for upcoming show due to Adler's commitments to LAMB OF GOD.
MEGADETH's new album, "Dystopia", debuted at number three on the Billboard 200 chart, right behind Justin Bieber and Adele, resulting in the band's highest charting album in 24 years
"Dystopia" opened with 48,000 copies, marking MEGADETH's highest-charting album since 1992's "Countdown To Extinction" debuted and peaked at No. 2 on the chart dated August 1 of that year. "Dystopia" also logs the group's best sales week since 2007, when "United Abominations" landed at No. 8 with first-week sales of 54,000.