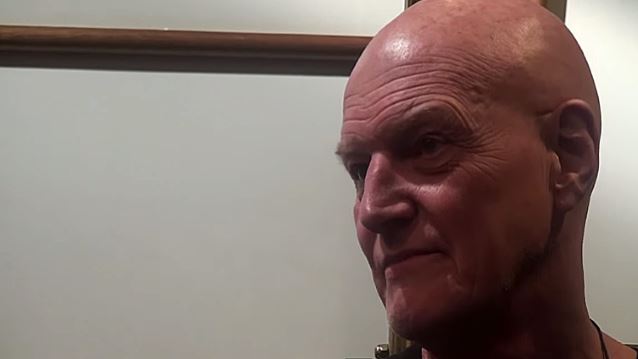 In a new interview with Rolling Stone magazine, Chris Slade has said that nobody from the AC/DC camp has told him he is no longer the band's touring drummer.
When asked if the AC/DC Wikipedia page is accurate in saying that he is still the band's current drummer, Slade responded: "To my absolute knowledge, and this is me being absolutely honest, I am the current drummer in AC/DC. [Laughs]
"It may sound deluded to some people. I've said that before in interviews and people have gone, 'The man is deluded. He's lost it. He doesn't know what he's talking about.'
"Nobody has ever called me and said, 'By the way, you're not the current drummer' or, 'By the way, Phil's been in the band for three years,'" he added. "Nobody has ever said that. As far as I'm concerned …God, I'm philosophical enough to realize that Phil may well be back in the band. I have no idea. I had no idea last time when they called me before Rock Or Bust. I'm open to all possibilities. That's the way people should be, open-minded."
Slade played drums on band's latest album Rock Or Bust, which was released in November, 2014. Since then, AC/DC has apparently finished recording a new album, with Phil Rudd sitting behind the kit in the studio.
 TWISTED SISTER frontman Dee Snider said in a recent interview on 95.5 KLOS radio station that AC/DC will likely embark on stadium tour along with new album release.
Asked when fans will finally get a chance to hear new music from AC/DC, Snider said: "I think that everybody — and you've seen this with the movie industry; you've seen this across the board — not everybody, but a lot of people have said, 'Let's just put a hold on everything until everything until things settle down a little.'
He continued: "I think they're planning on a tour to go with the new record, and I know they're spoiled old brats like me — they don't wanna do it online or something. They know they're gonna be playing stadiums on this tour."