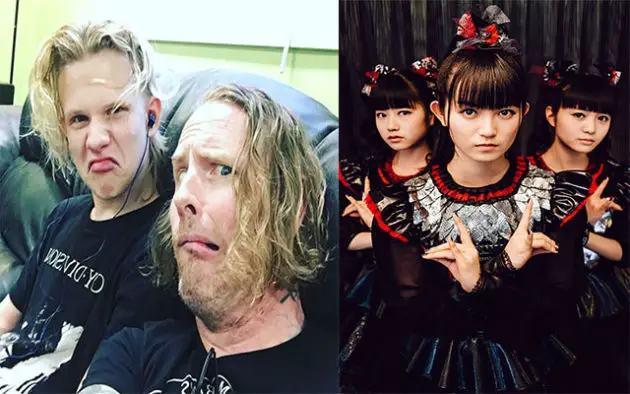 In a new interview with Junkee, SLIPKNOT and STONE SOUR frontman Corey Taylor revealed how he's son Griffin got him into BABYMETAL. As for the moment Taylor first heard of BABYMETAL, he says:
He's such a big music fan. He's actually the one that got me into Babymetal! [laughs] I'd never heard of them, and he comes running up to me and is like, "You gotta check this out." I was so amazed – it was like "What the fuck?" [laughs] His enthusiasm is what got me into them.

He's been a fan of music for as long as he's been able to respond to it. His talent's always been there, too. I can remember on his second birthday, we got him a keyboard with a little microphone attached. As soon as he realised that the microphone made noise, he started making noises into it. "UHH! UHH! UHH! UHH!" The crazy thing was that it was all rhythmically matched up exactly to the little drum machine — I knew he was onto it right away.

The cool thing is that as he's gotten older, we've bonded so strongly through music. Before, it was me more focusing on laying down the law and just being a dad. I was trying to hammer in those important things — morals, manners; having those foundations and that compass. Now that he's a little older and putting those things into practice, it's allowed us to lift that a little bit. I'm still a dad first and foremost, but I've also been doing what I can to teach him what I know about music.

It's a new level to our relationship; and I never had that with any person who tried to be my parent growing up. This is a really new thing for me, and I love it. It's really cool.