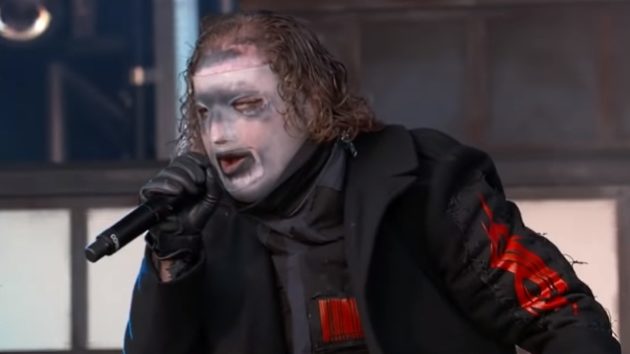 Corey Taylor was recently interviewed by Ireland's Overdrive. When asked if SLIPKNOT ever planning to perform without masks, singer responded:
"It's such a part of our art. It's also part of the reason why we change the masks with every album. Unlike KISS, they have always used the same make-up and it never evolved. For us, we've changed with every album and not only the masks but also the outfits. You can totally tell every album by the uniform.
"I think things like that have kept SLIPKNOT relevant, it's kept the music vibrant, it's kept the live shows different and it's kept us from stagnating. So, no I could never see us losing the masks. If we ever got the notion to do SLIPKNOT unmasked, I think I'd be, like, 'Well… eh. No.'
He continued: "We are all in our 40s now and we still very much have a love-hate relationship with what we do, but every time we step on stage, we're absolutely prepared to give it everything we've got. So, for me personally, when that feeling stops, when we start trying to cut corners and try to make things easier just so we can 'get on with it,' that's when it's gonna be time to call it a day."
Taylor also spoke about SLIPKNOT's willingness to experiment musically on its upcoming album, We Are Not Your Kind, which is due on August 9. "I guess we started to push boundaries with [2004's] Vol. 3: (The Subliminal Verses) but on this album, I feel it falls somewhere between Vol. 3 and [2001's] Iowa," he said.
"There is the rage and the urgency of 'Iowa' with the experimentation and exploration of Vol. 3. We were heading that way to being, but with all the inner band peril, we really went off track over the last few albums. Everything that was happening during [2008's] All Hope is Gone has been very well documented and .5: The Gray Chapter was more of the approach of, 'Let's see if we actually want to keep doing this.' I'm really happy that we've been able to get back to this creative place and show the world that we are actually doing it really well.
"This album shows that we were all able to come together again and create something very special, and you know what? We really need to to do that for ourselves if anything. When it came time to lay this album down, we were so ready to do it. We were excited about making the album as we were about the content we were going to put into it. So, really, the whole experience was awesome and I'm really happy with it all."
SLIPKNOT will release their sixth studio album, We Are Not Your Kind, on August 9 via Roadrunner Records. Album was once again recorded at a Los Angeles studio with producer Greg Fidelman, who engineered and mixed SLIPKNOT's 2004 album "Vol. 3: (The Subliminal Verses)" and helmed 2014's ".5: The Gray Chapter."
In March, SLIPKNOT announced the departure with the percussionist Chris Fehn after he filed a lawsuit against his band members over unpaid loyalties.
In his lawsuit, Fehn claims to have always been told that the money from merchandise and touring is funneled through one sole company that splits profits and pays the members of the band. However, Fehn claims he recently discovered that his bandmates have set up several other SLIPKNOT-affiliated business entities in different states that appear to be collecting money from the band.
SLIPKNOT have refused to reveal the identity of the new member, who is replacing Fehn, but some fans on Slipknot Reddit had speculated that Zach Hill is the new percussionist, and said they saw him at Jimmy Kimmel Live.
Band has recently unveiled details of their very own craft spirit, No. 9 Iowa Whiskey, which will be available this summer at select retailers in all 50 states and at the band's headline Knotfest Roadshow North America tour. A collaboration with the Iowa-based Cedar Ridge Distillery, No. 9 Iowa Whiskey (90 proof) and No. 9 Reserve Iowa Whiskey (99 proof) are made with corn from the award-winning distillery's family farm in Winthrop, Iowa.