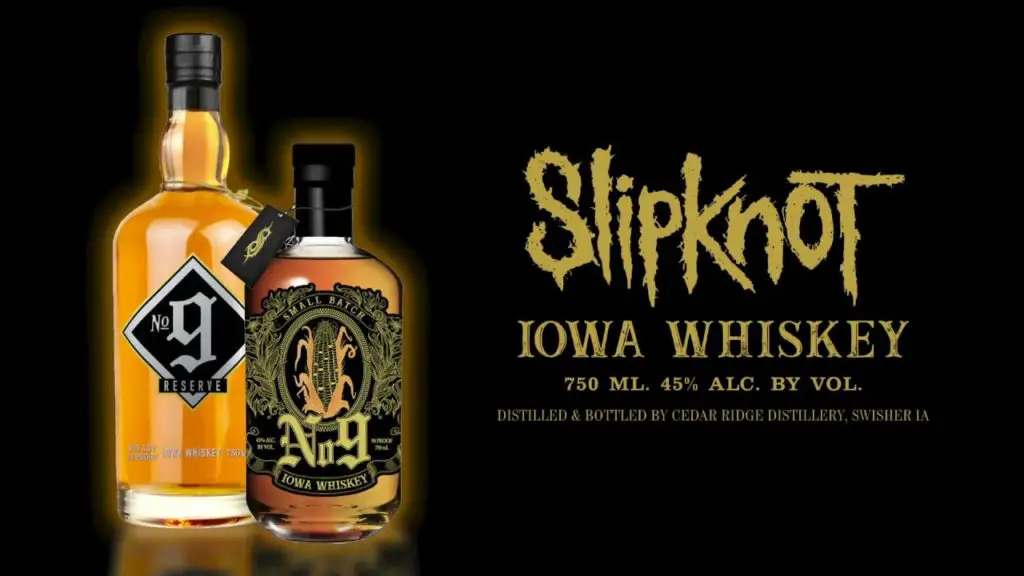 SLIPKNOT have unveiled details of their very own craft spirit, No. 9 Iowa Whiskey, which will be available this summer at select retailers in all 50 states and at the band's headline Knotfest Roadshow North America tour. A collaboration with the Iowa-based Cedar Ridge Distillery, No. 9 Iowa Whiskey (90 proof) and No. 9 Reserve Iowa Whiskey (99 proof) are made with corn from the award-winning distillery's family farm in Winthrop, Iowa.
SLIPKNOT's M. Shawn "Clown" Crahan expanded on the partnership stating, "SLIPKNOT and Cedar Ridge Distillery – two groups of people born and raised in Iowa, and committed to quality and hard work. We collaborated on No. 9 Whiskey, which in addition to Iowa corn, gets some extra spice from its rye content. I hope you enjoy it as much as we do. Live life, and always be safe."
Owner and founder of Cedar Ridge Distillery, Jeff Quint, noted: "As we came to know the SLIPKNOT guys, we realized we share a lot of the core elements of a good Iowa foundation — these guys are very down to earth, hard-working and care deeply about their followers. Building this whiskey with them was an easy, natural process that resulted in a strong and spicy expression, just the way they wanted it."
"Our challenge was to produce a whiskey that represents SLIPKNOT's style of music; something bold, something with distinguished character, something that you don't exactly come across every day," added Cedar Ridge head distiller Murphy Quint. "At the same time, it needed to be a whiskey that satisfies a true whiskey aficionado, regardless of its ties to the band. I feel that this blend of bourbon and rye hits that mark."
For more information, visit slipknotwhiskey.com.
SLIPKNOT will release their sixth studio album, We Are Not Your Kind, on August 9 via Roadrunner Records.
In March, SLIPKNOT announced the departure with the percussionist Chris Fehn after he filed a lawsuit against his band members over unpaid loyalties.
In his lawsuit, Fehn claims to have always been told that the money from merchandise and touring is funneled through one sole company that splits profits and pays the members of the band. However, Fehn claims he recently discovered that his bandmates have set up several other SLIPKNOT-affiliated business entities in different states that appear to be collecting money from the band.
SLIPKNOT have refused to reveal the identity of the new member, who is replacing Fehn, but some fans on Slipknot Reddit had speculated that Zach Hill is the new percussionist, and said they saw him at Jimmy Kimmel Live.