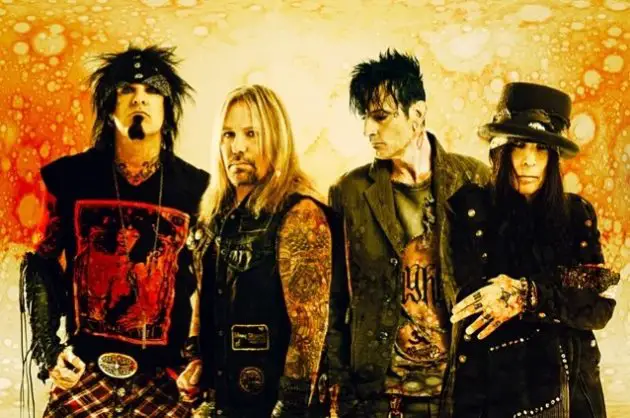 During a recent appearance on 95.5 KLOS, MÖTLEY CRÜE drummer Tommy Lee discussed the idea of drive-in concerts in the wake of the ongoing pandemic.
Tommy said: "I heard about the drive-in thing, and for a minute I thought, 'Well, that's a cool idea. It keeps everybody a safe distance apart. It'd be weird kind of rocking out in your car but, hey, a lot of people have gotten laid in cars and rocked out in cars. Why not?'
"But, it still seems weird," he continued. "At least people are thinking of other ways; while we're in this situation, people are doing Zoom live concerts and stuff but, man, there's nothing better than just being blasted by a ginormous PA system and surrounded by people.
"It's an indoor-outdoor sport — it's that intense — and it doesn't quite translate over a big screen or on a computer. I don't know. I've seen a bunch of DJs do stuff like that, and I'm like, 'This needs people.' I get it; everyone's trying. Someone's gonna figure it out, though. Watch."
When asked about CRÜE's stage production for the postponed tour, Lee said: "Nikki [Sixx, bass] and I had spent — Jesus — several months designing 'The Stadium Tour.' So all that stuff is sitting in a ginormous warehouse. And the only I can tell you is that it's insane.
"You give us a ginormous place that seats between 40 and 60 thousand people with no roof on it, all I can say is we had a blast designing this. It's one of those where people are gonna walk out, going like, 'What the hell just happened here?'"
MÖTLEY CRÜE and DEF LEPPARD have recently issued an official statement regarding their "The Stadium Tour" with POISON and JOAN JETT & THE BLACKHEARTS postponing it to 2021.
Bands said in a statement: "We wanted to continue to communicate with our fans and update you with valid information as it becomes available. The official decision has been made to move all 2020 North American Stadium Tour dates into the summer of 2021. The new stadium dates are being rescheduled, your tickets will be honored for all postponed shows and refund policy information will be made available shortly. Stay tuned, be safe and we will see you next year."
"The Stadium Tour" was originally scheduled to kick off on June 18 at TIAA Bank Field in Jacksonville, Florida — and run through September 5 in Los Angeles. The bands reportedly also booked time at VyStar Veterans Memorial Arena in Jacksonville to rehearse for the tour.