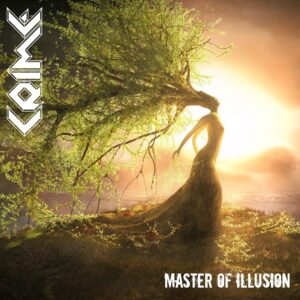 Sometimes we receive albums that are very hard to label due to the varied music the band delivers. It's not unusual to have a situation like this. This thing happens for many reasons. First, the music the band delivers is a hybrid of styles making it difficult to decide which style the band plays. Second, the band showcases lots of influences from Metal music that are translated into the band's music what makes it also difficult to write about. Third, those influences are from a hodgepodge of styles and genres what mostly makes it difficult to write about. Crime fall into the second – by the way, crime is a great name for a Metal band. "Master of Illusion" showcases many influences from Metal music. The band bounces from the 1980s Hard Rock to the NWOBHM. The mix Crime do here is very peculiar because the album isn't divided by songs in a way with songs in another way. The twelve tracks the album delivers are a constant change of heart which makes it  challenge to the fan. Most of the tracks are the mix themselves. Take "From My Mind" for instance that has that 1980s Heavy Metal grip with some elements that bounce to the Hard Rock as Whitesnake used to do in 1987, just as an example.
One thing that called my eye almost instantantly was the overtone of the keyboards Crime use in tracks as "Shoot Shoot," a track with a rock'n'roll grip that gets even brighter with the keyboards. Immediately, the great Vanadium came to mind. This rock'n'roll grip was very used in the first wave of Heavy Metal with bands as Black Sabbath, Led Zeppelin, and in this very particular case, Deep Purple. One particular sound that I appreciate a lot in here is the bass lines. I just love the this bass sound. This feature is a common thing in the album and it makes it even more tasteful. Tasteful is a fair term to "Master of Illusion" I must say. The almost ballad "No Life" has a tricky cadence that makes the fan think it's a ballad, but, in fact, it's a slower mood track with a very nice guitar solo. The taste of 1987s Whitesnake here is stronger than ever. Don't asked me but I sensed some Scorpions "Still Loving You" in it as well. Now, following track "Movin' On" make me remember the great Steve Ray Vaughn due to its bluesish cadence and mood. Unfortunately, very few Metal bands have this kind of influence.
Ok, this kind of album really makes my mind. It's no secret that I just love bands with some far-from-Metal features. Well, I mean, "Master of Illusion" has its roots on 1980s bands when the Blues and some rock'n'roll were allowed. Great for me. Did I hear old man's Metal? Nah, just don't care.
Crime "Master of Illusion" was released on November 11th via Metalapolis Records.
Track Listing:
Master of Illusion
Tears Are Falling Down
From My Mind
Shoot Shoot
No Life
Movin' On
All Good Things
Kingdom of Desire
Nowhere to Run
Sisters of Mercy
Showed Me Love
The Chains
Watch "Master of Illusion" official music video here: