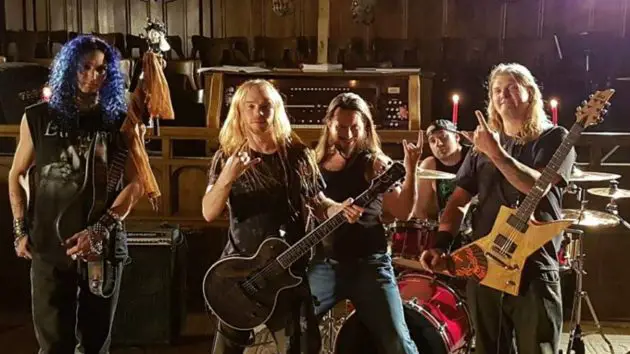 Hailing from Winnipeg, MB, DARK MESSIAH is a band of marauders blending the elements of metal, metal and more metal for the perfect soundtrack to the apocalypse. They present a listening experience that is soothing, calming, face melting, ear bleeding along with ball busting rock to gently pierce your brain.
Their soul cleansing sound is the perfect thing to gracefully walk you through the collapse of a failed capitalist world burning to ashes in front of you. When it's all said and done, DARK MESSIAH's music will elegantly grasp you and escort you through the excruciating, agonizing abyss that is forever known as the gates of hell.
Unleashing their self-titled debut EP during November of last year, DARK MESSIAH reveals their new video for their track "No Soul To Sell". You can check out the new music video below.
"Dark Messiah" Tracklisting:
1. Dark Messiah (5:02)
2. No Soul to Sell (4:42)
3. Eliminate the Enemy (6:36)
4. Death from Above (5:08)
5. Your Final Breath (5:08)
Converting The Masses Tour:
Aug 7 – Portage, MB La Prairie – Masonic Hall
Aug 8 – Regina, SK – The Exchange
Aug 9 – Lloydminister, AB – The Root
Aug 10 – Edmonton, AB – The Rendezvous
Aug 11 – Red Deer, AB – The Vat
Aug 12 – Calgary, AB – Lord Nelson's Pub
Aug 14 – Kelowna, BC – Muninn's Post
Aug 19 – Vancouver, BC – The Red Room