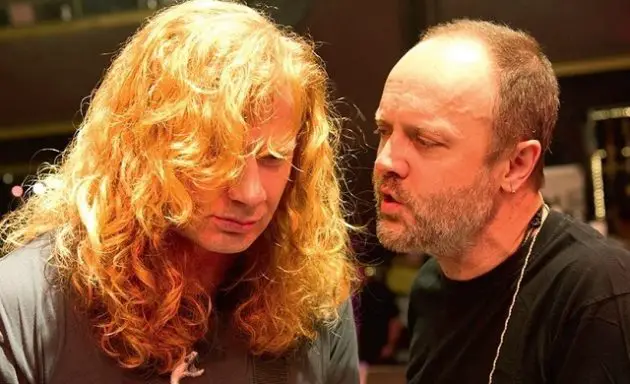 During a recent interview with Classic Rock magazine, MEGADETH mainman Dave Mustaine was asked about a comment he made in his 2010 autobiography, Mustaine: A Heavy Metal Memoir, where he referred to himself as "the leader of the band" when he was in METALLICA in the early 1980s.
After the interviewer said that the statement was "a bit strange" because the guys who founded that band, James Hetfield and Lars Ulrich, are "such alpha males," Mustaine responded: "Oh no. I am clearly the alpha male between the three of us. Why did I have to do everything when I was in the band? Why did they always ask me talk to the promoters and collect the cash? Why was I the one who had to do the fighting? Why did I have to talk in between songs?"
He also added that it's not difficult for him to talk about METALLICA.
"I really don't give a **ck," Mustaine said. "And you know what? I love those guys. I sent a text message to James just a couple of days ago after he'd said that he was insecure about his playing. I said: 'James, I love you and I really like your playing.' He didn't answer. Of course not. Why would he? The point is I wanted him to know that I've had those feelings too, but I don't now.
"I must remind you that when I joined METALLICA, James did not play guitar. He just picked it up and started playing when I was in the band. But let's be honest, James is one of the best metal guitar players in the world. So for him to have those feelings, that's a lie, because he's a mind-blowingly talented guy. So I just felt I needed to say something to him. I didn't tweet it. I didn't want anybody to know what I said. But I'm telling you because, hey, you brought it up."
MEGADETH's 16th studio album, The Sick, The Dying… And The Dead!, was released on September 2 via UMe.