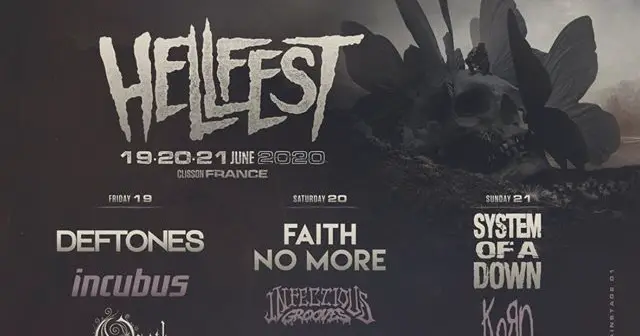 DEFTONES, FAITH NO MORE and SYSTEM OF A DOWN are confirmed as headliners for next year's Hellfest Festival.
Festival will take place on 19 – 21 June 2020 in Clisson, France.
Among other artists are INCUBUS, KORN, MASTODON, OPETH, DEEP PURPLE, JUDAS PRIEST, THE OFFSPRING, INFECTIOUS GROOVES, THE DARKNESS, DOWN, OBITUARY, DEATH DTA (The DEATH tribute featuring members of DEATH), AT THE GATES, ENTOMBED AD, SACRED REICH, DEVIN TOWNSEND, MESHUGGAH, THE BLACK DAHLIA MURDER, DYING FETUS, MISERY INDEX, MAYHEM, ABBATH, ROTTING CHRIST, PRIMORDIAL, THE GREAT OLD ONES, WARDRUNA, THE HU, TAAKE, WATAIN, ALCEST, BORKNAGAR, GAAHL'S WYRD, ELECTRIC WIZARD, BARONESS, OM, WITCHCRAFT, BLACK MOUNTAIN, ELDER, ASG, ENVY, MONO, JOHN GARCIA & THE BAND OF GOLD, HIGH ON FIRE, PELICAN, KILLING JOKE, PERTURBATOR, LIFE OF AGONY, 3TEETH, INTER ARMA, BODY COUNT, SUICIDAL TENDENCIES, YOUTH OF TODAY, SLAPSHOT, JESUS PIECE, HIGHER POWER, SOCIAL DISTORTION, ANTI-FLAG, AGNOSTIC FRONT, REVEREND HORTON HEAT, GRADE 2, CODE ORANGE, and much more.