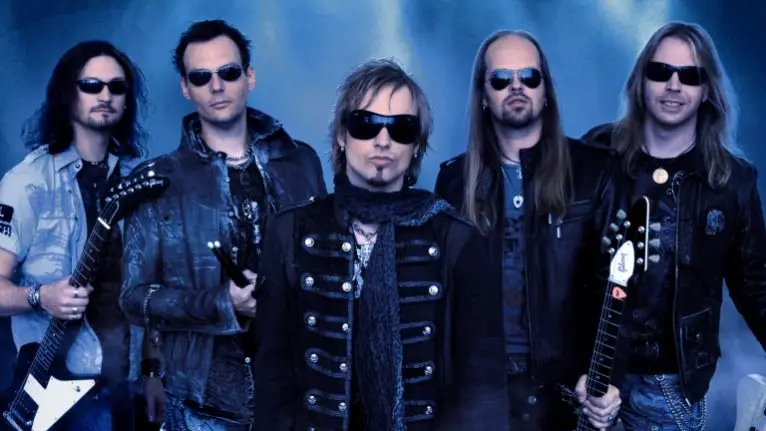 In February 1992, a bunch of German kids set out from the middle of nowhere and founded a band that would conquer the hearts of a whole new generation of fans around the globe!
Now, 25 years later, founding members Tobias Sammet (AVANTASIA) and the two guitarists Jens Ludwig and Dirk Sauer, as well as Tobias "Eggi" Exxel (bass) and Felix Bohnke (drums), who joined the band 20 years ago, can look back at their hugely successful career to shows in more than 40 countries, countless tours in Asia, Australia and America, ten studio albums and top 10 chart entries from all over the world.
To celebrate such an exceptional career with their fans, EDGUY will get back on the road. And while the live program will only contain the best material of their entire career, the new release will not be just a 'Greatest Hits' album one would expect to accompany such a tour: The 2-CD/DVD-package "Monuments" (release: July 14th) will include brand new material, their best tracks of the last 25 years, and old rarities that have never been published before! In addition, the DVD includes an entire show from their "Hellfire Club" tour in 2004 and the complete collection of their video clips. The limited edition will include an extensive coffee-table book containing material from throughout the entire history of EDGUY!
The band reveals the first single naw as well as the lyric video for the brand new song "Ravenblack". Check it out below.
"Monuments" Track listing:
CD1:
01. Ravenblack
02. Wrestle The Devil
03. Open Sesame
04. Landmarks
05. The Mountaineer
06. 9-2-9
07. Defenders Of The Crown
08. Save Me
09. The Piper Never Dies
10. Lavatory Love Machine
11. King Of Fools
12. Superheroes
13. Love Tyger
14. Ministry Of Saints
15. Tears Of A Mandrake
CD2:
01. Mysteria
02. Vain Glory Opera
03. Rock Of Cashel
04. Judas At The Opera
05. Holy Water
06. Spooks In The Attic
07. Babylon
08. The Eternal Wayfarer
09. Out Of Control
10. Land Of The Miracle
11. Key To My Fate
12. Space Police
13. Reborn in The Waste
DVD:
01. Mysteria
02. Under The Moon
03. Navigator
04. Wake Up The King
05. Land Of The Miracle
06. Lavatory Love Machine
07. Vain Glory Opera
08. Fallen Angels
09. The Piper Never Dies
10. Babylon
11. King Of Fools
12. Chalice Of Agony
13. Tears Of A Mandrake (feat. André Matos)
14. Out Of Control
Video Clips:
15. Love Tyger
16. Robin Hood
17. Two Out Of Seven
18. Ministry Of Saints
19. Superheroes
20. Lavatory Love Machine
21. King Of Fools
22. All The Clowns
Pre-order your copy here.