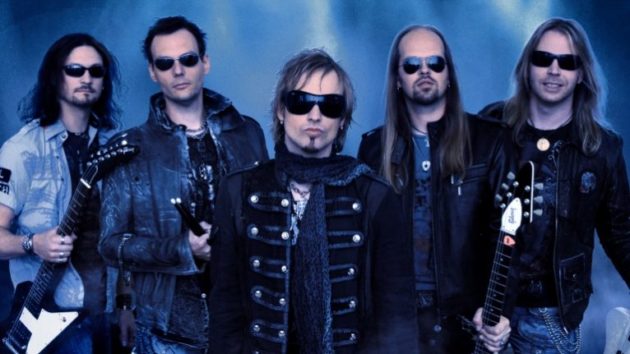 25 years of EDGUY – a silver anniversary that demands celebration! This is why this autumn, Tobias Sammet and his band members will present their greatest hits on the "The Best Of The Best" tour. As a prelude to this, the upcoming double CD/DVD package "Monuments" will be finally released this Friday, on July 14th, 2017!
In this context, we are pleased to present you another special: Tomorrow, front man Tobias Sammet is going to play some new songs of the new album, that were never published before in his TOBIAS SAMMET ROCKSHOW at RadioBob (stream on radiobob.de)!
Tobias comments: "We can't wait to unleash our monumental anniversary release 'Monuments' this Friday. 22 old classics from all eras of the band, countless pictures of the band's history, 5 brand new songs written by several band members and a full DVD with a running time of nearly 2,5 hours with a complete live concert of 2004 and all our videoclips. Not to forget some unreleased material. The ultimate package. Here's a little taste of what you can expect from the new songs:
Listen to the weekly TOBIAS SAMMET ROCK SHOW on RADIOBOB (stream live at radiobob.de), tomorrow 21:00 Central European Time – I will play some of those new songs for the first time ever!"
The band also releases an album trailer, which includes all important info about "Monuments". Check out the trailer below.
"Monuments" Track Listing:
CD1:
01. Ravenblack
02. Wrestle The Devil
03. Open Sesame
04. Landmarks
05. The Mountaineer
06. 9-2-9
07. Defenders Of The Crown
08. Save Me
09. The Piper Never Dies
10. Lavatory Love Machine
11. King Of Fools
12. Superheroes
13. Love Tyger
14. Ministry Of Saints
15. Tears Of A Mandrake
CD2:
01. Mysteria
02. Vain Glory Opera
03. Rock Of Cashel
04. Judas At The Opera
05. Holy Water
06. Spooks In The Attic
07. Babylon
08. The Eternal Wayfarer
09. Out Of Control
10. Land Of The Miracle
11. Key To My Fate
12. Space Police
13. Reborn in The Waste