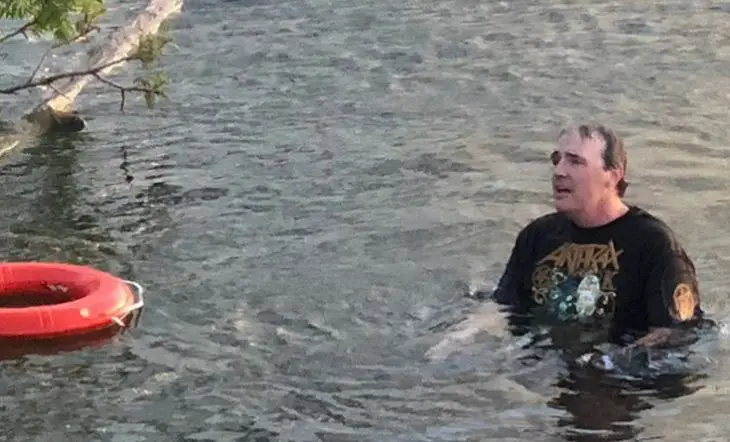 Exclaim! reports that a fan who famously got kicked out of a SLAYER show at Toronto's Budweiser Stage and attempted to swim back in has been immortalized on a new commemorative beer can.
The can celebrates the venue's 25th anniversary with a design that honors 25 acts that have performed at the venue since it opened in 1995 as the Molson Amphitheatre. Oshawa resident Chris LaRocque — complete with water droplets and ANTHRAX T-shirt — appears at the bottom of the can.
Said LaRocque in a Facebook post, "I wonder if I can get free beer?"
The now-47-year-old metal fan told Exclaim! that he was ejected from the venue after attracting the security's attention due having had a few too many alcoholic beverages.
"I was a little inebriated, not like fall-down drunk or nothing, but I was feeling pretty good," LaRocque admitted. "I was just like headbanging and moshing around a little bit."
LaRocque's stunt went viral when ANTHRAX guitarist Scott Ian made an Instagram post showing Chris's effort to swim back into the Budweiser Stage after getting kicked out of the May 2018 show.