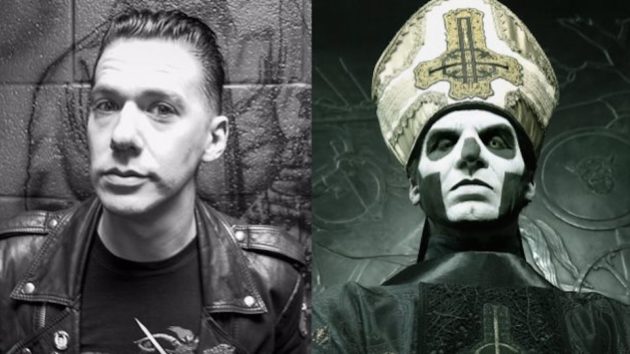 GHOST's Tobias Forge was interviewed backstage at this year's edition of the Graspop Metal Meeting, which was held earlier this month in Dessel, Belgium. The full conversation can be seen below. A few excerpts follow (as transcribed by Blabbermouth.net):
On what inspired him to form GHOST:
Tobias: "It's a myriad of different things, but over the years, having spoken at length about the various influences and things that have in one way or another inspired myself or this whole project, I think the best way for me to understand it myself is that it's a lot of my childhood, actually. I grew up in a very music-loving home with a lot of records, a lot of TV, a lot of radio, a lot of video — VHS cinema, basically. A lot of the things that I'm doing today are things that got my motor humming when I was five. Even though I'd like to say that a lot of the singular influences and things I'm inspired by, or things that in one way or another alter my way of doing things, [are] a little bit more sophisticated — and obviously, I listen to a lot more things now — but at the end of the day, when I was five, six, seven, eight years old, what did I listen to? PINK FLOYD, Alice Cooper, KISS, [THE] ROLLING STONES, stuff like that that I'm still holding with high regard. The first records that I got when I was very little was KISS, TWISTED SISTER and MÖTLEY CRÜE. It's not very far from that. I'm not trying to imitate any of them [in] what we sound like, but at the end of the day, what I'm looking for is that same, 'Oh yeah!' feeling that I got when I opened up… I remember when I was a kid and I had 'Shout At The Devil', and you see Nikki Sixx, this completely androgynous monster at the time. That just looked so incredibly cool, and they sounded so dangerous, whereas actually it was just bebop rock n' roll."
On whether he thinks today's young rock fans look to GHOST in the same manner:
Tobias: "I hope so. If kids out there have a similar feeling or experience that I had watching a lot of these bands… [there's] nothing more purposeful."
On whether GHOST fits in at "metal" festivals such as Graspop:
Tobias: "I don't know. That in one way insinuates… I guess there is a norm — a 'metal' norm — that is represented by a majority of bands in the 'heavy metal/[hard] rock' section that I think we might differ from a little in our ways of mixing things up. There are certain things in my writing that I guess [are] a little bit different from some other bands, but if I look at a band like BLACK SABBATH, for example, I am very inspired by BLACK SABBATH. I've listened to BLACK SABBATH for as long as I can remember. I want GHOST to be a lot like a band like BLACK SABBATH and what they were when they made, in my opinion, their best records in the mid-'70s — very experimental, very progressive, very brave. I think that even though BLACK SABBATH get a lot of [praise] — obviously, everybody loves BLACK SABBATH, and they get so much credit — I think that sometimes, it's annoying that they don't get credit for how f*cking brave they were in 1973, 1974, 1975, when they made 'Sabbath Bloody Sabbath', 'Sabotage', 'Vol. 4'. Those records were so… I am way more influenced by those than I am [by] their two first records. I want GHOST to be a band like that. I don't want to sound like BLACK SABBATH, but I want my band to be as brave and progressive. Unfortunately, in this day and age, I think that once metal became a little bit of an establishment, it also [showed] a side that is quite conservative and has a lot of dogmatic rules. Heavy metal is embraced by a big span of ages, so you will always have the elders who are protective and teaches [sic] the younger people of how things should be. If we get started on mid-'80s death metal, I will be extremely an*l. I am myself also responsible for that sort of onesidedness, I would say. But it is what it is, and I think we're a metal band at the end of the day."
Entire interview can be watched below.