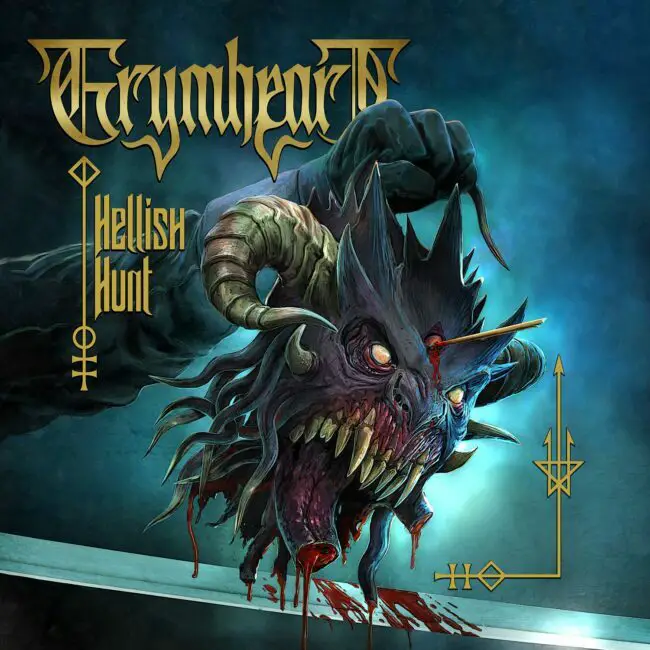 The first thing that comes to mind after hearing all Grymheart "Hellish Hunter" is that Grave Digger are a big influence to the band. I really don't if it's intentional, but that's the feeling after hearing all the album. Of course, the album isn't a perfect match, but the feeling that gets is that except for the eeire, but vibrating vocals and the Folk Metal dashes here and there. On the other hand, if one thinks it over, Grave Digger do have some Folk Metal influences in albums from the Scottish era. They were full of bagpipes and flutes plus the historical content.
"Hellish Hunter" commences with the classical acoustic guitar inspired "The Twilight Is Coming." This kind of classical acoustic guitar is one of the staplers of the band. It's everywhere in the album combined with the very melodic twin guitars. A point to mention is the guitars here are much more melodic than Melodic Death Metal average which makes the band a kind of hybrid of Grave Digger with In Flames, for instance. It's impossible not to be addressed to Grave Digger after hearing tracks as "Hellbent Horde" and "Ignis Fatuus" I must say. But it's the vibrating vocals of tracks as "My Hellish Hunt" that makes the band stands out from the crowd. It's the emotional content from the instrumentals combined with the exciting voice of Gabriel Blacksmith that makes Grymheart so unique. I suggest my dear child of the night to go right to "Army from the Graves" whose a la Accept chorus will make my dear child of the night weep.
Grymheart with "Hellish Hunter" deliver a combination of Melodic Death Metal with Power Metal with very high doses of melody. I'd say that the band is much more melodic than any Melodic Death Metal band I've ever heard and that's exactly what makes them so unique. Gabriel Blacksmith's eerie but exciting voice is one of the things that make a huge difference interwoven with the overmelodic guitars prone to an epic driven performing. Take a look at "Facing the Kraken" and tell me you stood still!
It's so easy to like "Hellish Hunter," if you know what I mean. Its melodies takes the fan by the heart. Another album to be highly mentioned to nomination.
Grymheart "Hellish Hunter" will be released on September 22nd via Scarlet Records.
Track Listing:
The Twilight Is Coming
Hellbent Horde
Ignis Fatuus
To Die by the Succubus
My Hellish Hunt
Army from the Graves
Everlost
Fenrirs Sons
Facing the Kraken
Harpies of Devil
Monsters Among Us
Watch "To Die by the Succubus" official music video here:
1843