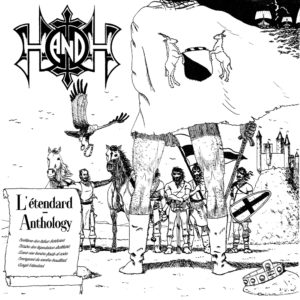 I confess that I'm not used to listen to songs in French. But H And H "L'etendard" sounds so nice that one couldn't care about the language. It' s a very hard work to fit languages other than English into metal songs. Sometimes lyrics are not apropriate to the singing structure, that makes the song sounds funny. H And H "L'etendard" solved that problem. Some songs sound better than the others, but in general, the outcome is great.
The greatest charm of "L'etendard" is that although the songs are very written and built, the naive guitar solos in some moments drive the attention. Some phrases are of such a simplicity that naive is the word that fits better. And to us, heavy metallers that is really charming. If H And H had stayed a bit longer in the Metal world, they would have got a better luck. "L'etendard" is the produt of a band that were in musical progress. We can tell that by the songs evolution.
"L'etendard" is a compilation of all material that H And H recorded during their short life. And maybe that's why some songs are a bit different throughout "L'etendard." The opening track "L'etendard" is very different from "Pour l' Honneur De Satan." BTW, only "L'etendard" and "Echec Au Roi" were officially recorded for their 7″ single. All the other are demo recordings that were remastered and partially restored by the producer Bart Gabriel. H And H were a very solid and tenacious band, all songs follow a certain songwriting criteria, except for "Heavy Rock" that stands out from the others, being very AC/DC's "Rocker."
So H And H "L'etendard" is a very charming effort.
Track Listing:
L'Etendard
Echec Au Roi
Intro
Fils De l' Enfer
Les Eaux Du Desespoir
Slow Of Hope
Les Machoires d'Acier
Vengeance
Virus
Un Ange En Enfer
Pas De Chance
Pour l' Honneur De Satan
Heavy Rock
You can listen to the title track "L'etendard" here:
You can also listen to H And H on Souncloud.